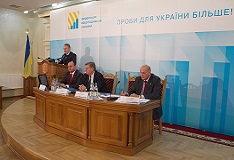 29 November 2013 Federation of Employers of Ukraine
FEU Proposes To Develop Investment Map of Ukraine
The Federation of Employers of Ukraine will propose the Government to develop an investment opportunities map of Ukraine which will allow local entrepreneurs finding resources to grow their business. This was stated by the FEU President Dmitry Firtash during the meeting with leaders and business owners of Ternopil region.
"In Ukraine it is necessary to develop an investment map to make clear for entrepreneurs and the government what enterprises are needed for deeper processing of products, whether it's agriculture or light industry. I'm confident that agricultural products processing has a great future. The pilot project will be implemented in the Ternopil region", said Dmitry Firtash.
According to the President of the Federation of Employers, low share of agricultural products processing and insecurity of the domestic market allow foreign producers rapidly increasing volume of imports. According to the FEU, for nine months of 2013, imports of butter in Ukraine increased by 56%, pork – by 50%, dairy products – by 37%, fish – by 27%, vegetables – by 24%, cheese – by 20%, and sugar and confectionery products – by 11%.
During the meeting Dmitry Firtash noted that Ukrainian entrepreneurs didn't have any mechanism that would allow them to develop business.
"Business has ambitions, but doesn't have any opportunities to develop and build new raw processing plants and enterprises for production of goods with high added value. But if business is offered loans at 8-9 per cent per annum and preferential tax treatment, in 10-15 years Ukraine will be able to significantly improve products industrial processing", said Dmitry Firtash.
The President of the Federation of Employers also added that thus the State would be able to significantly accelerate the domestic market development and increase the share of Ukrainian producers.
"Only farms can occupy a niche that is occupied by importers today – a market of 7.5 billion dollars a year", said Dmitry Firtash.
Agriculture can be a basic industry which will accelerate the entire economy development, says Dmitry Firtash. In a world there is an ever-growing demand for food, stressed the President of Ukrainian employers. This guaranteed demand for many years to come will allow the state to plan the economy. At the same time, according to the FEU President, investment in agriculture will give impetus to the development of mechanical engineering, agricultural chemistry, construction, food industry. According to the Federation of Employers of Ukraine, creation of one job in agriculture will create 8.6 jobs in related industries.