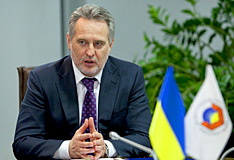 23 February 2012 Employers movement
Federation Of Employers Of Ukraine Enhances Business' Impact On State Tax And Customs Policies
The Federation of Employers of Ukraine has reached an agreement on intensifying cooperation with the State Taxation Service and State Customs Service of Ukraine. Mr. Firtash, the FRU President has had meetings with Mr. Igor Kaletnik, Chairman of the State Customs Service (SCS), and with Mr. Olexandr Klimenko, Chairman of the State Tax Service (STS) which resulted in a signature of memorandums on cooperation. As the FRU President put it, the state of economy is directly affected by the degree of activity of the business' interaction with taxation and customs authorities playing the key role in shaping up the business climate. "Conditions for the development of both small and large business have to be put in place in Ukraine. Business plans may not be disrupted over never-ending changes in or incompliance with the laws," said Mr. Firtash. He further added that what entrepreneurs need for having their businesses evolve is stability and long-term planning capability.
"The government must speak to business with utmost integrity. We have to look into each other's eyes and speak the truth. We clearly realize the challenges faced by the customs and tax services. And we, the employers, are prepared to accept compromises. There is however a certain boundary behind which compromises make no sense. Because behind this boundary, there are no conditions for doing business. Without a strong business, there is no strong government," stressed the FRU President.
According to Mr. Firtash, the Federation has been drawing up a five-year program of Ukraine's industrial development. "Based on a clear understanding of which sectors will generate the biggest returns for the state, we will set forth the industry's development priorities. Pursuing a shared plan, the corporate world and the government will augment Ukraine as a global player. This is the policy that the world's leading economies have been pursuing," noted Mr. Firtash.
As per the reached agreements, the Federation of Employers will join efforts with the State Customs Service and State Tax Service in instituting workgroups that will work on a permanent basis to address specific challenges faced by small, medium and large businesses.
"The agreements between the State Customs Service and the Federation of Employers must provide a powerful impetus to the development of enterprises underlying the domestic production growth in Ukraine. At present, this is a priority for the State Customs Service," stressed Mr. Igor Kaletnik, the SCS Chairman.


"The objective of our dialog is not to articulate mottos but rather to activate effective cooperation generating tangible and visible results for both parties. By working closely with business and general public representatives we are looking into eradicating the misunderstandings in construing the tax legislation. The pre-agreed mutual bargains instead of litigations and disputes – this is our approach," commented Mr. Oleksandr Klimenko, the STS Chairman.