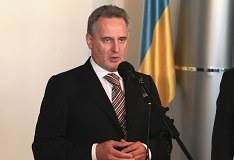 02 March 2015 Interview to Euronews TV Channel
Europe, Ukraine and Russia Should Start an Open Dialog, – Dmitry Firtash
The way out of the crisis will be found when an open dialog between Ukraine, Europe and Russia starts. This was stated by Dmitry Firtash in his interview to Euronews TV Channel.
"Ukraine and Russia should sit down together and talk things through. Whether we like each other or not we should maintain dialogue. Negotiations may be unpleasant and politically unfavorable for one of the parties, but it is necessary to talk. The war leads nowhere", stressed Dmitry Firtash. According to him, instead of attracting investments, developing market and make profit, Ukraine applies for weapon transfers and this can lead to the third world war.
'Let's all sit down and talk about everyone's problems – what Russia wants, what Ukraine wants, what Europe wants, and let's have a frank and open discussion. What we need is unity; we need to win one big game, to make one big common market. And it doesn't really matter whether we build it from Lisbon to the Far East or from the Far East to Lisbon", said Dmitry Firtash.
Talking about the situation in Ukraine, Dmitry Firtash noted that the tough economic situation in Ukraine was being worsened by the constant conflict between the Prime-minister and President set out in the Constitution.
"The results of the last presidential and parliamentary elections did not offer the expected solutions to the problems. The reforms are not implemented, there are no positive changes, and ultimately people are suffering, business is suffering, everyone's suffering. We have to change this situation, we have to right the wrongs of the last 23 years. We have to do a lot in the next 23 years, we have to draw plans and outline solutions. This is about constitutional reforms and economic reforms, and it's a big task but it has to be done", said Dmitry Firtash.
Ukraine Modernization Plan will be presented at the International Forum "Ukraine Tomorrow" organized by the Federation of Employers of Ukraine and trade unions. With the participation of more than 200 influential European businessmen and politicians loyal to Ukraine, the issue of multi-billion investments attracting to Ukraine for modernization plan implementation will be discussed.
According to Dmitry Firtash, Ukraine needs to revise the government system. "I am convinced that we should delegate more power to the regions. Ukraine needs re-construction. It can be some form of federation, or a Polish system, or a German or Austrian system, but it should settle the issue once and for all", said Dmitry Firtash.
Talking about the reasons of the charges against him, Mr. Firtash noted, that neither he nor his group had ever done anything illegal. "I treat this case as a matter of political pressure because someone wanted to keep me out of Ukrainian politics, away from home, because those people knew my position and attitude to things, and they could anticipate my actions. I am against the war and I don't hide it. I keep saying that what we need is a constitutional reform, that the three parties have to sit down and find solutions. That means that I have a clear position", stressed Dmitry Firtash. In case the US charges are recognized ill-grounded, Dmitry Firtash plans to return to Ukraine. He does not intend to be involved in politics and plans to focus on business. "I have never been involved in politics. I've never had an ambition to become a politician or a government official. Firstly, I don't even know how to do it. It's not something close to my heart. I love doing what I like. I like business and that's exactly what I'm doing", noted Dmitry Firtash.