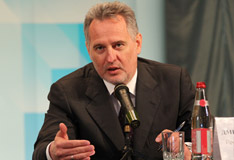 06 April 2012 Employers Movement
Crimea-based Companies With Dmitry Firtash's Interest To Partly Reimburse Water Bills To 55 Thousand Armiansk And Krasnoperekopsk Citizens
An effort towards implementation of
Dmitry Firtash's
decision whereby Crimea-based companies owned and co-owned by Mr. Firtash will reimburse partly of the cost of water and sewage bills to 30 thousand residents of Krasnoperekopsk and 25 thousand citizens of Armiansk has been launched at the peninsula.
In Krasnoperekopsk, water supply tariffs have been reduced by more than a half from 12.38 down to 6.19 UAH/cu. m of supplied and drained water. At the same time, bills for budget-sustained organizations and other industrial entities will remain unchanged.
Mr. Firtash noted that the similar tariffs compensation practice will be introduced in Armiansk populated by 25 thousand citizens and being home for 'Krymskiy TITAN' plant in which Dmitry Firtash has equity. According to Mr. A. Nechaev, Chairman of the 'Krymskiy TITAN' supervisory board, the question of reducing water bills for Armiansk residents is being worked on.
Mr. Firtash issued an instruction to partly compensate of the households' water bills for Armiansk and Krasnoperekopsk during his and Anatoliy Moguilev's March 29 meeting with citizens of Krasnoperekopsk who had raised a problem of prohibitively high cost of their water tariffs. As a matter of comparison: in March 2012, the cost of water supply and sewage services exceeded Kiev rates by 3.7 times and those applied in Simferopol – by 3.8 times. "The tariffs question is closed. I am instructing the CEO of Crimean Soda Plant to see to it that the company pays half of the households' tariff cost", said Mr. Firtash.
During this meeting, the Prime-Minister of Crimea Mr. Anatoliy Moguilev urged Armiansk and Krasnoperekopsk municipal authorities to revisit the tariff rates. He also instructed that a special commission be set up which would verify the substantiation and consistency of excessively high water tariffs.
The Crimean Soda Plant and 'Krymskiy TITAN' are principal employers in their respective municipalities and their successful performance determines well-being of not only the plants' staffs but also of the entire population of these mono-cities. Over the past years, the enterprises controlled by Mr. Firtash have been providing systemic support to their municipalities. On March 29, Dmitry Firtash caused the drafting of Armiansk and Krasnoperekopsk socio-economic development programs. He pointed out that the government of Ukraine must pay more attention to mono-cities' problems. At present, one or two enterprises within a municipality make difference in lives of the total of 2.5 million residents of the total of 120 cities across Ukraine. As President of the Federation of Employers of Ukraine, Dmitry Firtash initiated the compilation of a registry of mono-cities and enterprises-principal employers with due consideration for impediments hindering the social and economic advancement of companies and their home-cities. Based on the results of this effort, the FEU will present a comprehensive plan of mono-cities development for the government's review.