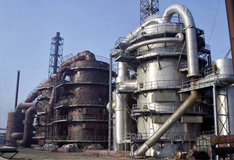 20 April 2011 Chemical Sector. Congress of Chemists of Ukraine
Dmitry Firtash's Chemical Companies Have Shipped 900K Tons of Fertilizers to Ukrainian Agribusinesses at Preferential Prices
"We agreed with the Government to grant a 20 % discount to agricultural producers and we have lived up to this commitment in full having shipped 650 thousand tons of ammonia nitrate and 250 tons of urea," said Mr. Firtash as he spoke at the Union of Chemists of Ukraine.
At an earlier stage, the arrangements reached between Mr. Firtash's chemical industries and the Government of Ukraine contained a clause on provision of a 20 % discount to Ukrainian agribusinesses during the seed time period and fixed the mutually agreed schedule of nitrogen fertilizers shipments to the domestic market for the next three years. These arrangements have made it possible for agribusinesses to move from a season-driven to evenly apportioned workload of their production capacities which, in turn, affords a discount for Ukrainian agricultural producers.
The entrepreneur also pointed out that the progress of the chemical sector is inextricably connected with the agriculture development. "If agriculture doesn't advance, nor will our business. We are intertwined, there is no alternative to being together. We therefore must care for agrarians, we must develop our market, our agribusinesses. Because they are the ones who are end-sellers, they get paid for the end-product – grains and other agricultural produce," commented Mr. Firtash.