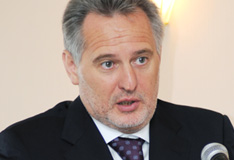 20 April 2011 Chemical Sector. Congress of Chemists of Ukraine
Dmitry Firtash Urges Systemic Development of Chemical Education
Systemic development of chemical education is a must for Ukraine, stated Mr. Dmitry Firtash speaking at the Congress of the Union of Chemists of Ukraine. "We have to support universities and see to it that they train specialists possessing skills and qualifications that production is in need of," said the entrepreneur.
Developing secondary school education is of no lesser importance, Mr. Firtash believes. "Ukrainian schoolchildren have great theoretical knowledge but what they lack is practical experience," he said and stressed that in the past 16 years Ukrainian high school students won the total of 62 medals at International Chemistry Olympiads. The Head of the Board of Directors of Group DF called upon Ukrainian business community inviting to help schoolchildren. "It would only be fair if all chemical industries in their respective communities could outreach schools donating 2000, or 10000 or 20000 to help them acquire elementary essentials, the technical base enabling them to improve their skills. I am sure we won't go broke if we help the kids."
Mr. Firtash said he was confident that the chemical sector is the most important industry of Ukraine's economy and its development must be approached not only from the production modernization and assets consolidation perspective, but also with education and personnel training in mind.