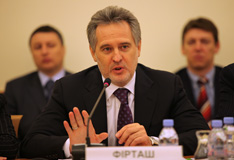 25 May 2012 Federation of Employers of Ukraine. Charity
Dmitry Firtash: Ukrainian Business People Must Revive Philanthropy Traditions
"Over twenty years, a new independent class of people has been formed – the people who have learned to assume more responsibility than others: this is a class of employers. Today is the time of challenges for them, the time when investments have to be made not only in production, in business but also in the home country," said the President of the Federation of Employers of Ukraine at his meeting with Sumy regional administration and business community. He pointed out that quite a few business people today are taking on a good deal of social responsibility thereby showing to citizens that what matters for an entrepreneur is an active public stance and not only sheer commercial profit.
"Entrepreneurs are capable of becoming the elite setting moral standards in the society," said Mr. Firtash. "We should recall the good traditions of Ukrainian philanthropy – these are our traditions. Let us look back: it's not long since the time when Ukrainian industrialists Tereshchenko, Kharitonenko and others were building schools, hospitals, churches, monuments which we are still using! No one forced to do it, it was a matter of their conviction."
Mr. Firtash urged Sumy entrepreneurs to contribute into the city's development. "I am sure there will be no one coming from Kiev to build your city. You are the ones who have to make it happen. It must be a business-to-power dialog. It does not matter how much each would contribute: somebody will donate a dollar, somebody – a couple of dimes, somebody could offer a thousand, another one – a million. But if all of us go ahead and start helping our communities, I am sure the city will lead a whole different life," stressed Dmitry Firtash.
The employers' leader noted that he as a businessman has been providing sizeable assistance to municipalities hosting his enterprises. "At this time, we are acquiring forty new trolleybuses for Cherkassy thereby renovating thirty percent of the city's park. We will not accomplish all things at a time, but some of the priorities will be addressed," assured Mr. Firtash.
The FEU President told that Ukrainians have a lot of things to pride themselves in, and have to learn from the pre-revolution generation of entrepreneurs for which business was not just about making money but also about serving their Motherland. Mr. Firtash cited an example of the Kharitonenko family of Sumy: "They did care about how they lived their lives and how people around them do. It was a completely different way of thinking – the people lived and worked for the sake of next generations. The Kharitonenkos coat of arms bore a motto: "Through labor I rise". Ivan Kharitonenko bequeathed a significant part of his fortune to the city of Sumy writing in his will: "I plead my relatives to love one another and the city of Sumy the way I do." Mr. Firtash further said that the Ukrainian business is prepared to follow the suit. And it is very important for the state that business be strong as employers represent the fundamental class for Ukraine. "The time has come for all of us to realize that the government and business are equally responsible for the state," suggested Mr. Firtash.