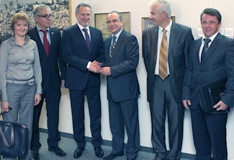 15/09/2011 Employers Movement
Dmitry Firtash: "Ukraine Will Be New Center of Europe's Economic Growth"
Dmitry Firtash is certain that Ukraine will become a new center of Europe's economic growth. This statement he made in Tel-Aviv while speaking at the European Employers Conference. This year's annual conference focuses on efforts towards countering the second wave of the international economic crisis so realistically looming according to numerous economists' outlooks.
In this connection, employers have been discussing ways for European countries to minimize their losses during this economic decline period. As Mr. Firtash pointed out, Europe is currently lacking internal resources while Ukraine features a number of undisputed investment edges. In particular, it is one of Europe's biggest countries with the population of about 45 million – the fifth largest market of the continent. Its favorable geographic position allows exporting products directly to regions with an aggregate population of over 1 billion people. Mr. Firtash laid particular emphasis on Ukraine's agricultural potential as one of the key factors predetermining the nation's economic growth.
Mr. Firtash suggested that one of the next annual European Employers Conferences be hosted by Ukraine. According to him, in the past 20 years, Ukraine has passed an impressive path and a new class of leaders-entrepreneurs has been formed. "Today, Ukraine's business is an accomplished fact. It has taken a firm foothold and is ready to unite in pursuit of its goals," said the Head of the Joint Employers Movement of Ukraine/ Mr. Firtash further noted that later in November, employers of Ukraine will hold their unification congress which is expected to consolidate the maximum number of employers' organizations and associations into a single entity.
As part of his Conference participation agenda, Mr. Firtash had a series of bilateral meetings, including a meeting with Mr. Antonio Peñalosa, General Secretary of the World Employers Organization, and with Mr. Shraga Brosh, President of the Manufacturers Association of Israel. The latter culminated in the signature of an Agreement On Cooperation intended to increase trade turnover between the two countries, provide the utmost support to businesspeople of Ukraine and Israel in their joint business projects, and to promote mutual investments.
NOTE
About a year ago, economists detected signs of the approaching second wave of the global economic crisis which is estimated to strike in 2013. According to an assessment of Prof. Nuriel Roubini of New York University, who had projected the first crisis wave, the risk of a new recession occurrence in developed countries in the short term is about 60 percent. On the 9
th
of September, Ms. Christine Lagarde, the IMF Managing Director also spoke about the evidently growing risks of economic decline in the whole world.
A few countries have already started active discussions and elaboration of anti-crisis measures. In particular, on the 13
th
of September, President Barack Obama submitted to the Congress a draft law talking about curbing unemployment and fueling national economy. The bill providing for $477 billion worth of financial infusion will, if approved, reduce a taxation burden, provide support to the jobless and incentivize infrastructure modernization.
European employers, preparing to the second crisis wave and struggling with investments shortage, suggest creation of new jobs and employment of young citizens.
In Ukraine, the anti-crisis efforts development is supervised by the Prime Minister and the Governor of the National Bank.