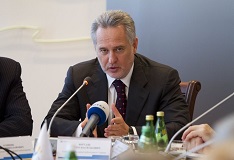 12 May 2014 Federation of Employers of Ukraine
Dmitry Firtash: Ukraine Is Ripe For Decentralization of Power
In Ukraine it is necessary to decentralize power, to give regions more resources and remove the language problem. This was stated by the President of the Federation of Employers of Ukraine, Chairman of the Group DF Supervisory Council Dmitry Firtash in the
interview to Inter TV channel
.
Dmitry Firtash noted that over the past few years he had visited almost all regions of Ukraine and everywhere there was the same problem. "A region does not solve anything, governor does not solve anything, and mayor cannot solve anything at all. Although people elect him, the construction that contains a big part of centralization of power and thus all money stays in the center. All money is earned and goes to the center, one person or a team distributes it. Excuse me, it is not working, it is not possible today", said the President of the Federation of Employers of Ukraine.
Dmitry Firtash noted that in 2012-2013 he had stated about the necessity of power decentralization. "I believe that we have to build federalization", said Dmitry Firtash. "Federalization is not a bad word. It provides answers to all the questions that need to be addressed today. Give more authority to regions, there should be more opportunities. Should be central authority that decides external issues, but it should not decide questions of a region. But I'm all for the integrity of the country. When I talk about federalization, I'm not talking about separating of the regions of Ukraine. Shall it be the whole country but with greater powers in areas and regions. Governors and mayor should be elected; then the area has its own government, then people understand whom they can ask. They know better how to allocate their money, what to build and what to do", said Dmitry Firtash.
Dmitry Firtash gave the example of the economically developed countries with a federal system – the U.S., Germany and Austria. "If you look at Austria, Austrian budget: 50 % of money is in regions, 50% – in center. And Germany – 70% of money is in regions, areas, and 30% – in center. We have the opposite: 85% in the center and 15% in the regions. The country must be united, but it has to have a federal structure", said Dmitry Firtash.
The President of the Federation of Employers of Ukraine noted that today Ukraine needs to be united. "Ukraine, as a tore blanket, it is needed to be picked together and sewed. But in order to sew it together, everybody has to give an answer. Force will not help here. Here it is necessary to talk to people and give them something they want. They need to be heard", said the FEU President.
The FEU President noted that the question of federalization of Ukraine has ripened long ago. "I'm quite a practical person, so I think that the problem has ripened and needs to be solved today and immediately. Question: are we ready as the Ukrainians; I believe that we are ready. I think that politicians are not ready yet because as soon as we start to talk about it many political forces and political leaders will have to give a clear answer what they are for. And it is unprofitable for them. It is unfavorable for them. Even though the house is on fire, they still continue playing", said Dmitry Firtash.
He also noted that when the politicians cannot make decisions themselves, they should be pushed. "We have to push when politicians are not able to. You ask me: I'm a businessman, not a politician? It's true. I should do business. But when I see that doing business I fulfill my obligations: I fill in the budget, I give people jobs, I do everything, and the politicians do not fulfill their obligations, because of them I will become bankrupt, and the country will be bankrupt, then they should be pushed and showed that we are not happy with this, we do not like it, let's start talking, let's answer the questions. Let's decide", stated Dmitry Firtash.
In addition, Ukraine needs to remove the language question. "There is no need to put the language problem ahead. Again, someone will talk, someone will not. Switzerland has four languages; three of them have the state status. And even in this case it is a powerful state", said the FEU President.