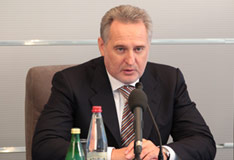 19 October 2012 Chemical sector
Dmitry Firtash To Invest About $2.5 Billion In Petrochemical Business
During his visit to Severodonetsk AZOT, Mr. Firtash, Head of the Board of Directors of Group DF announced that the total of $2.5 – 2.7 bn is planned to be invested in the development of petrochemical production at four companies belonging to Dmitry Firtash's Group DF.
"The petrochemical industry development program envisages that over four years to come we must invest $2.5 – 2.7 bn in RivneAzot, STIROL, Cherkassy Azot and Severodonetsk Azot. Reconstructions of a colossal scale need to be accomplished and most advanced equipment needs to be acquired," commented Mr. Firtash. He further added that at Severodonetsk Azot alone up to 80 percent of the plant's petrochemical production equipment will have to be replaced.
According to Mr. Firtash, Severodonestk Azot featuring well-developed R&D and production resources will be the pilot facility for incorporating advanced petrochemical technologies.
In a matter of several months, a specialized R&D institution will be launched at Severodonetsk Azot to support the full production cycle: from semi-finished all the way to end product. Its priorities will include the development of most promising avenues of petrochemical production and end products manufacturing organization, as well as marketing research.
The personnel is expected to count some 400 specialists of which about 200 researchers will be dealing with scientific search while approximately 100 engineers will be responsible for such developments incorporation in the production.
"The institution must become a base research facility underlying the development of chemical and petrochemical production at the Group's plants," pointed out Mr. Firtash.
The R&D facility will be able to rely on four Severodonetsk-based research institutions specialized in chemical technologies development. Besides, cooperation with specialized research units of the University of Cambridge is also being considered.