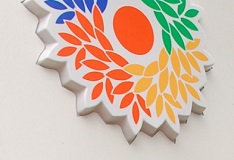 07 May 2014 Chemical sector
Dmitry Firtash To Invest $150 Million in Nitrogen Enterprises Reconstruction
In 2014, $150 million will be invested in nitrogen enterprises being part of Dmitry Firtash's Group of companies Group DF. This was stated by the Chairman of the Group DF Supervisory Council Dmitry Firtash during the teleconference with employees of Concern Stirol, Cherkassy Azot, Severodonetsk Azot, and Rivne Azot.

Dmitry Firtash noted that nearly $120 million are invested in reconstruction and renovation of nitrogen enterprises annually. This year's budget will be increased to $150 million. One of the most ambitious projects of the current year will be increase in production of urea at Severodonetsk Azot up to 1600 tons per day from the current 1200-1250 tons.

"We want to abandon the sale of freight ammonia, because its transportation to the port is quite expensive. Therefore, we will increase the production of dry fertilizer. This is a very important project, we hope that it will be paid off in five years", said the businessman answering the question of Cherkassy Azot employee.

Dmitry Firtash stressed that he has no plans to cut production or restrict funding of renovations in enterprises. "We will carry out reconstruction no matter what will be the situation in the country, and what will happen financially. This issue has been and will remain", said the owner of Group DF.

Dmitry Firtash stressed that conducted in 2013 repairs had improved efficiency and enabled enterprises not to stop production in summer for renovations.

"We are fully prepared to work this summer without stopping. Due to the fact that last year the production was stopped, we did plant-wide renovations which would never be done without a full stop of plants", said the businessman.

The owner of Group DF noted that last autumn suspension of production led to higher prices in the global fertilizer market and allowed Ukrainian enterprises gaining profit. "In February and March, prices grew, and this has allowed us earning a little money and going through the first and second quarter with a certain income", said the businessman.

Dmitry Firtash also noted that there would be no staff reductions on Ostchem nitrogen enterprises. "Six months ago, when the market conjecture was difficult, and we have stopped production, there were no cuts, salary was paid on time. And now we will not cut anyone, we will continue working. Moreover, our plans show that we will need to increase the personnel", said Dmitry Firtash answering the question of Severodonetsk Azot employee. "If the renovation will be done as we have planned, then we will increase production, we will increase the turnover, we will get more revenue, and it will give us an opportunity to compensate the expanses," - said the businessman.

According to Dmitry Firtash, a key factor of the nitrogen enterprises development will be domestic market growth. The businessman said that in 2011 the consumption of fertilizers in Ukraine had reached the level of 1990. "By the end of 2014 we will reach the level of 1.8 million tons, and by 2020 the volume of domestic consumption in Ukraine will be about 2.5 million tons. Therefore it is important for us to strengthen our position in the domestic market", said Dmitry Firtash answering the question of Severodonetsk Azot employee. For these purposes, in Ukraine, a network of 25 warehouses that sell fertilizer to Ukrainian farmers directly at fixed prices was created.