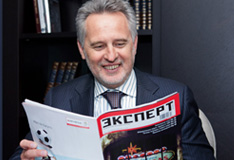 18 May 2012 Chemical Sector
Dmitry Firtash To Boost Domestic Mineral Fertilizers Market
Interviewed by 'Expert' magazine, Dmitry Firtash, Head of the Board of Directors of Group DF told that he is looking to expanding the network of warehouses storing fertilizers and agrochemical substances destined for distribution in the domestic market, and to launching retail distribution of several-kilo fertilizers packages.
"We are trying to structure Ukraine's market in a way which will prevent from importers' playing the master here. It has become possible after we consolidated the plants. We have been very seriously working with warehouses because it is very important for a customer to be able to not only buy fertilizers at a convenient place nearby but also to be able to store them," explained Mr. Firtash.
He further noted that the Group has already acquired a large trading company UkrAgroNPK thus obtaining ownership in 16 warehouses across the country. By the end of summer 2013 Group DF plans to extend the warehouses network to consist of 36 storage facilities. "This will be enough to control the imports situation – importers do not have the storage capacity like this, we have an edge on them logistics-wise as we are closer to the customer while maintaining comparable prices," said Mr. Firtash. He also added that the Group is now negotiating with owners of two gas stations networks to see to it that small packages of fertilizers can be vended at their stations. "As a drive-through, anyone can buy 2 or 3 kg of ammonia nitrate or urea for their kitchen-garden. In other words, we will be having large wholesale and small retail capacities," stressed Mr. Firtash. "My strong belief is that we have to outreach shop shelves. On these shelves, we want to sell not only fertilizers but also herbicides and other agrochemicals. Unfortunately, big supermarkets do not carry our fertilizers as yet, they are packed up with Polish and German imports. We'll have this situation changed. Ukrainian fertilizers are not worse and are very competitive price-wise," he maintained.