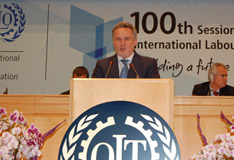 14.06.2011 Employers Movement. 100th Conference of International Labor Organization
Dmitry Firtash Speaks At The Jubilee Session Of The International Labor Organisation
Mr. Dmitry Firtash, Head of the Joint Employers Movement and Chairman of Group DF, has made a speech at the 100
th
Conference of the International Labor Organization (ILO) on 14 June.
In his speech, Mr. Firtash discussed the issues of fostering social dialogue in Ukraine, and told about the measures taken by employers to encourage Ukrainian social and economic development.
Speaking before several thousand delegates coming from 183 countries, Mr. Firtash stressed the importance of a concerted policy towards unemployment minimization. He pointed out that this policy may only be developed through a joint effort of the government, employers and trade unions. "We are looking at this issue in a broader context. We have to not only create jobs but also care about training personnel for these jobs," said Mr. Firtash. He further added that Ukrainian employers, looking to ensure efficient personnel training, came up with a draft National Qualification Criteria which will help provide the national economy with specialists possessing adequate skills and knowledge. Mr. Firtash also remarked that Ukrainian employers support the promotion of research and help improve the quality of studying sciences. "By fostering the new specialists generation formation we are laying a foundation for innovative development of our economy," emphasized Mr. Firtash.
According to an ILO estimate, 81 million out of the total 620 million young men and women aged between 15 and 24 were unemployed in 2009. In Ukraine, the unemployment rate is really of a scary scale: young people under 28 years old make up about 20 percent of the total of officially registered jobless citizens.
German Chancellor Angela Merkel speaking on the same Conference day laid an emphasis on the imperativeness of effective interaction between the business, government and trade unions aiming at unemployment minimization. According to her, Germany supports the dialog and partnership and appreciates the determinant role of social cooperation in attaining stability in developing countries. Ms. Merkel also stated that "young people willing to work must be given future."
Another speaker at the Conference, President of Indonesia Susilo Bambang Yudhoyono pointed out that employers of the world should seek to create new jobs for young people. He believes that in this effort, as well as in curbing the effects of the global economic crisis, coordinated efforts of governments, business and trade unions are crucial. "The lesson was that the Government, corporate world and the workers worked together to minimize unemployment," he said. As a result, Indonesia was one of the first countries to overcome the crisis.
The ILO Conference held on June 1 – 17 in Geneva is attended by 4.5 thousand delegates from 183 countries. International Labor Organization was founded in 1919 and remains the world's leading entity dealing with the matters of labor and employment markets.