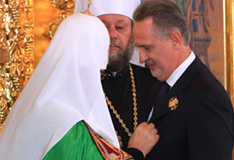 2 October 2011 Charity. Holy Trinity Cathedral
Dmitry Firtash Receives Order from Patriarch Kirill for Support in Holy Trinity Cathedral Construction
His Holiness Kirill Patriarch of Moscow and All Russia awarded Mr. Dmitry Firtash with the Order of Venerable Serafim Sarowsky, 2
nd
Degree. The entrepreneur received this high decoration for his charity support to the construction of the Holy Trinity Cathedral of the Holy Ascension Monastery (village of Bancheny, Chernivtsi region).
The Order of Venerable Serafim Sarowsky, 2
nd
Degree was also conferred to Yuriy Boyko, Minister of Energy Sector and Coal Mining Industry.
His Holiness also awarded the Monastery Father Superior, Rev. Longuin, who was a begetter and active participant of the Cathedral construction, with the Order of Prince Vladimir, 3
rd
Degree.
The Patriarch expressed appreciation to the Dean: "Within these walls you, along with volunteers, along with monks and nuns, along with your outstanding benefactors, you sacrifice, thereby fulfilling the God's commandment. You are assuming the bearing of the cross to help the ailed, the weak and orphans."
The awarding ceremony took place after the consecration of the Holy Trinity Cathedral and the Divine Liturgy in the newly inaugurated temple.
Following that, His Holiness Patriarch Kirill consecrated an orphanage for disabled children opened at the Holy Ascension Monastery.
NOTE
The Cathedral of Holy Trinity which was being erected for 5 years (launched in 2006) is one of the largest Orthodox temples in Ukraine and in Europe. The mural decorations were performed by more than 60 artists. Some of frescos were applied following an ancient technology. Unlike the majority of temples where the mural artwork replicates the existing paintings, the decorations in the Holy Trinity Cathedral are in most cases unique.
The Cathedral was erected due to the donations of the Orthodox community and Mr. Dmitry Firtash's charity endowment.