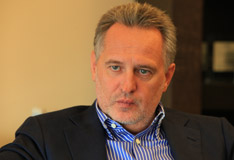 3 November 2011 Chemical Sector
Dmitry Firtash Plans to Invest Up To $3 Billion in Chemical Sector
Interviewed by
Den
daily, Mr. Dmitry Firtash, Head of the Board of Directors of Group DF, has announced his intention to invest about $3 billion in the development of four Ukrainian manufacturers of mineral fertilizers.
According to Mr. Firtash, the development of petrochemical production in which he plans to invest $2.8 billion over 5 years to come, is the most promising direction for the plants forming the Group. "The petrochemical sector development is extremely promising. Presently, Ukraine has completely yielded its positions in this market and we, by and large, import low-tonnage chemicals from either Russia or Germany. Alongside that, we have our own market for these products," commented Mr. Firtash. He further added that exporting Ukrainian petrochemical products to West-European markets is the next step realistically looming in a relatively short term.
The Head of Group DF Board of Directors noted that the total of his investments in Ukraine's nitrogen chemical industry nears some $1 billion with another $220-230 million committed before the end of the year. Mr. Firtash also told about his plants' current operational status and about a feedback from his investments: "We have raised the plants' outputs to 110 % of their capacity, we have completed major repair and reconstruction works."
The investor shared his business expansion plans telling, among other things, about his intention to acquire new assets and his commitment to participate in the Odessa Port Plant privatization tender, should it be announced. "At this point, I am negotiating an acquisition of companies in two countries whose markets are of strategic importance for us", commented the investor.
NOTE
Dmitry Firtash has been investing in the development of four Ukrainian mineral fertilizers producers, namely: STIROL Concern (Gorlovka, Donetsk region,) AZOT (Cherkassy), Rivneazot and Severodonetsk AZOT (Lugansk region). Part of the total of about $1 billion worth of investments in these companies in 2011 was channeled into technological upgrade programs which will enable an increase in production outputs. According to the data of the State Committee for Statistics, the nitrogen fertilizers outputs have recorded a 30.4 percent rise over the period from January through September 2011.
Mr. Firtash's firm belief is that the consolidation of Ukraine's chemical sector is the only key to the industry's competitiveness in international markets.