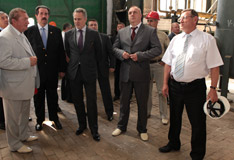 27 May 2011 Chemical Sector. Severodonetsk
Dmitry Firtash: "Petrochemistry Development аt Severodonetsk "Azot" а Must"
Speaking at a ceremonial meeting on occasion of the 60
th
anniversary of Severodonetsk-based "Azot" plant and on occasion of the Chemist Day, Mr. Dmitry Firtash called petrochemicals production a promising direction that must be developed at Severodonetsk Azot. "We don't have any doubts about "Azot". We've already done a lot and are now increasing the capacity. We are already experts in nitric and high-tonnage production," said Dmitry Firtash. He added: "We have a clear task – to move on to low-tonnage production. We want to focus on petroleum chemistry."
According to plans shared by Mr. Firtash, setting up petrochemical production within the next five-six years will allow to increase the outputs to the level of nitric products. "We would like to have another 50 % increase in the volumes of petrochemicals and low-tonnage manufacturing. Whereas today nitric production makes up 100 % of the total output, in the future we would like to make it a 50-50 proportion," explained the Head of the Board of Directors of Group DF. He stated that the entire operation would be located in Severodonetsk. "It means that very sizeable investments will be made in this endeavor," said Dmitry Firtash.
In his view, petrochemical industry development has an excellent future. "Ukraine has completely lost its position on this market and we generally buy our low-tonnage chemicals from either Russia or Germany while domestic market for these products is quite big. This being said, the first thing we should focus on, as a minimum, is competing for our own market. If this effort appears successful, then the next stage would be to compete for the European market," explained Dmitry Firtash.