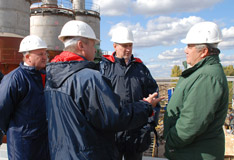 14 October 2011 Chemical Sector. Armiansk
Dmitry Firtash Makes Business Trip to Krymspkiy TITAN Plant
Mr. Dmitry Firtash, Head of the Joint Employers Movement of Ukraine, Head of the Board of Directors of Group DF has visited
Krymskiy TITAN
plant (city of Armiansk, Crimea) in which he is a shareholder. The entrepreneur has inspected the construction of a new sulphuric acid workshop following which the plant executives briefed him on the project implementation status.
The investor has also examined a would-be block sulfur melting branch where several liquid sulfur storage facilities have already been installed, the roofing works and some other construction activities are underway.
Visiting the principal construction site Mr. Firtash checked the workers' swing rooms and met with the management of the workshop under construction.
As a whole, Dmitry Firtash was satisfied with the pace of the new sulphuric acid workshop erection and with the overall feedback from his investments in
Krymskiy TITAN
.
"A great job has been done. At a meeting with German specialists and our holding executives two months ago a question of the facility commissioning was being discussed. Most of the people tended to think that deadline wouldn't have been met. But today I can see that it will. And the staff deserves a lot of thanks," said Mr. Firtash after his examining the construction sites.
Mr. Alexander Shytmaniuk, Chairman of the Board of
Krymskiy TITAN
, who was escorting Mr. Firtash during his visit, believes that the investor's ongoing attention to the construction project is a guarantee of his commitment to pursuing the development of the plant and the city of Armiansk housing it.
Speaking at the plant, Dmitry Firtash stressed that companies should play an active role in the development of communities they belong to. The investor reminded that at an earlier time,
Krymskiy TITAN
had already provided support to its home city of Armiansk by helping remodel the city's hospital and a movie theater. During this visit, the participation of
Krymskiy TITAN
in the local stadium pitch reconstruction was a matter of discussion.
NOTE:
Krymskiy TITAN
is a private corporation being the largest producer of titanium dioxide across the whole of Eastern Europe and exporting its products to over 60 countries worldwide.
The construction of a new sulphuric acid workshop with a capacity of 600 thousand tons per year is one of the major investment projects at the enterprise. Its implementation will not only allow to meet the titanium dioxide production demand in raw materials but also to secure autonomous supply of steam and electric power.