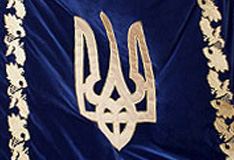 03 October 2013 State Commission On Cooperation With the World Trade Organization. Federation of Employers of Ukraine
Dmitry Firtash Included To The State Commission On Cooperation With The WTO
The President of Ukraine V. Yanukovych signed the Decree № 540 of October 3, 2013 whereby Mr. Dmitry Firtash, President of the Federation of Employers of Ukraine, is enrolled on the State Commission on cooperation with the World Trade Organization.
The President also included Inna Yemelyanova, First Deputy Justice Minister, to the Commission.
In addition, Viktor Yanukovych ordered to include to the Commission the members of the Cabinet of Ministers of Ukraine authorized for European integration, for cooperation with Russia and the states of the Commonwealth of Independent States, the Eurasian Economic Community and other regional associations.
The Commission membership also includes the heads of the government economic bloc, the National Institute for Strategic Studies, members of parliament, key business representatives and heads of public organizations.
In September 2011, the Federation of Employers of Ukraine representing the interests of the Ukrainian business appealed to the Government of Ukraine with a proposal to take action to protect the interests of domestic producers. In particular, it was proposed to use the right of every member of the WTO to review the conditions of membership in this organization every three years. In September 2012, Ukraine has officially appealed to the WTO and informed of the intention to revise the import duty on 371 groups of goods.
In addition, in September 2013, the Federation of Employers of Ukraine drew an attention of business circles in Europe and Central Asia to the emergence of new barriers for international trade. During the annual forum of the International Organization of Employers of Europe and Central Asia Dmitry Firtash initiated the creation of a permanent working group to solve the issues of trade between Ukraine, the EU and the Customs Union. Representatives of the Federation of Employers of Ukraine, the European Business Association BusinessEurope and the Russian Union of Industrialists and Entrepreneurs became the members of the working group.
NOTE
The State Commission for Cooperation with the World Trade Organization was established in April 2013. It was set to prepare proposals for cooperation with the WTO and protection of national interests of Ukraine in international economic relations with the WTO member states.