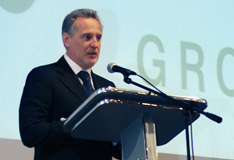 11 May 2012 Federation of Employers of Ukraine. Promotion of Enterprise
Dmitry Firtash: In Order To Be Protected, Business Does Not Need To Go In For Politics
Interviewed by "Expert-Ukraine" magazine, the President of the Federation of Employers of Ukraine maintains that in order to have its interests protected, business does not need to go in for politics.
"A customary behavior for many is to sit quiet and idle hoping that it will all get arranged somehow. My suggestion is to change the attitude and get rid of fears, to make sure that business is respected and talked to. We have to influence the state economic policy together. We have to jointly show new opportunities for Ukraine because it is exactly the business people who have a perfect nose for new opportunities and prospects," said Dmitry Firtash.
The Federation of Employers of Ukraine is an influential organization capable of addressing strategic priorities and defending interests of both large and small businesses, argues Dmitry Firtash. "The corporate world, the government and local authorities have a clear understanding of what a Federation is about. Our opinion is reckoned with. At this time, business doesn't have to go in for politics in order to gain protection. Everyone has to do their job, then there will be order in the country and everyone will know his or her scope of responsibility," stressed Mr. Firtash adding that he is planning to make field trips to all regions of Ukraine to meet local business communities. "Our objective is to build effective business-to-power relations across the entire country," he said.
An important note Mr. Firtash made was that the Federation is working to address the corporate world's problems in a systemic way rather than lobbying individual companies' interests.