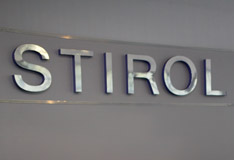 13 September 2010 Chemical Sector. Gorlovka
Dmitry Firtash Expands His Group Of Chemical Industries To Enhance Positions In Global Nitrogen Fertilizers Market
Dmitry Firtash expands his group of chemical industries seeking to enhance positions in global nitrogen fertilizers market. After acquiring
Stirol
Concern (city of Gorlovka, Donetsk region), Mr. Firtash, Chairman of the Board of Group DF now controls four nitrogen fertilizers producers:
Rivneazot
(Rivne, Ukraine),
Stirol
(Gorlovka, Ukraine),
Tajikazot
(Tajikistan) and
Nitrofert
(Estonia).
Assets consolidation in the chemical sector will allow to sustain and eventually strengthen Ukraine's positions in international ammonia nitrate and carbamide markets. At the moment, the global nitrogen fertilizers market capacity is recorded at approximately 102 million tons a year while the growth rate in 2010 – 2014 is estimated to reach 2 – 2.5 percent. The market is expanding primarily at the expense of Asian and Middle-East countries while European nitric productions appear to be yielding their export advantages.
Under the umbrella of a single managing entity, the nitrogen fertilizers producers controlled by Dmitry Firtash will be able to raise their product competitiveness. The synergy will be attained due to investment activities centralization, innovative solutions incorporation, professionals training and retraining, financial operations and reporting standardization, materials and equipment acquisitions optimization, repairs, reconstruction and construction works integration. The amount of annual investments in each of the companies is estimated to be within a $20-25 million range.
Mr. Firtash's acquisition of new enterprises is only consistent with current global trends. For example, discussions over fertilizers producers' mergers to improve their products competitiveness internationally have been quite active in Russia and Canada. Russia's
Uralkaliy
and
Silvinit
are seriously considering merging their capacities to solidify their positions at the potassium fertilizers markets. Canada's mining corporation
BNP Billiton
is looking into an acquisition of a Canadian potassium manufacturer
PotashCorp
.

NOTE:
Stirol
Concern is one of Ukraine's leaders in mineral fertilizers production. The enterprise was founded in 1993 as Gorlovka Nitrogen Fertilizer Plant. In 1995, the enterprise was transformed into a an open-end joint-stock company Stirol Concern. Presently employs approximately 3200 workers.