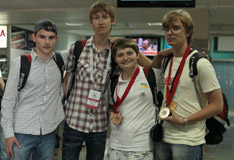 6 September 2011 Charity. Education
Dmitry Firtash Endows Special Prize for Ukrainian Prize Winners of International Chemistry Olympiads
Pursuing an effort of supporting the Ukrainian International Chemistry Olympiad Team, Mr. Dmitry Firtash will finance the cost of the English language courses for the prize winners at the 2011 International Chemistry Olympiad.
Earlier in July 2011, all the four members of the Ukrainian team – Anton Arkhipov, Tatiana Druzhenko, Oleg Borodin and Petr Kuzmenko won medals at the 2011 International Chemistry Olympiad. Today, all of them are students of chemistry departments of one of the most prestigious universities of Ukraine which sets a perfect example of importance of being part of the Ukrainian school Olympiads system encouraging other school students.
As Prof. Yuriy Kholin, Ukraine's team curator, explained, the International Chemistry Olympiad is first and foremost a platform for communication between gifted youths from different countries helping them get to know each other and maintain relations further. In this connection, knowledge of foreign languages is critical. "If young people want to achieve tangible results in science, it is next to impossible to make it happen without good foreign language skills. A foreign language is a key to the global research community, to advanced knowledge and scientific achievements," said Prof. Kholin.
Mr. Firtash, Chairman of the Board of Directors Group DF and Head of Ukrainian Joint Employers' Movement pointed out that support to gifted young Ukrainians is a paramount priority for him. "I want each and every young man and woman in Ukraine to clearly understand that it is owing to their knowledge and self-improvement efforts that they, irrespective of their well-being status, can achieve outstanding results, and we will be there to help them," stressed Mr. Firtash.