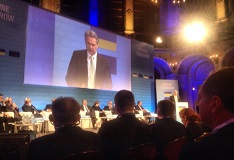 3 March 2015 Federation of Employers of Ukraine
Dmitry Firtash: Either It's A Miracle Or We Ourselves Will Save Ukraine
Ukraine has never become an ultimately independent state as it had failed to implement all the essential reforms in the past 23 years, said Mr. Dmitry Firtash speaking at the International Forum Ukraine Tomorrow co-organized in Vienna by the FEU and the Trade Unions Federation of Ukraine. The event has triggered remarkable interest among Europeans: instead of the originally registered 250 participants, the turnout was over 500 representatives of business and political communities of Europe.

"23 years ago Ukraine gained its independence. However we never became ultimately independent as we failed to implement essential reforms. Today, we – the employers and trade unions – wish to present our plan for Ukraine modernization," said Mr. Firtash.
The leader of Ukrainian employers also noted the commitment of Ukrainian academics and entrepreneurs as well as of their international partners to take an active part in the Ukrainian economy restoration and modernization. "We must review European countries' experience and turn a careful ear to the thoughts of Ukrainian academics. We have to understand where Ukraine must be in 25 years from now, to draw up a roadmap and to move forward. We know the experience of Eastern Germany and Poland; at a time our starting conditions were comparable. Today, we see how these countries are living. One may argue that it's a miracle. A recipe for rebuilding Ukraine is that it either will be a miracle, or we'll make it happen by ourselves," said Mr. Firtash.
The FEU President also informed that the Agency for Modernization of Ukraine founded on the initiative of the FEU and the Trade Unions Federation will, within 200 days, draw up a master plan of Ukraine's development. "We have to put in place an investment fund for the comprehensive modernization of Ukraine. Ukraine is a big country and its ultimate restoration will require some 300 bn dollars. We ought to reignite trust and confidence of both domestic and international investors to make sure that business is interested in investing in Ukraine," stressed Mr. Firtash.
The FEU President further assured the Forum attendees that the Ukrainian society is ready to accept transformations. "We must achieve results on a daily basis. Ukrainians must feel that each and every new day carries along changes for the better," said Mr. Firtash.