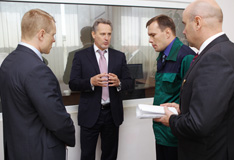 9 June 2011 Chemical Sector
Dmitry Firtash Causes Natural Gas And Energy Consumption Reduction Projects Development At Companies Controlled By Him
Group DF is accelerating projects to improve energy efficiency in its chemical plants, said Mr. Robert Shetler-Jones, Chief Executive Officer of Group DF speaking at the World Economic Forum on Europe and Central Asia held in Vienna on 8-9 June.
"The chemical industry is largely dependent on energy – 70-80 percent of the cost of nitrogen fertilizers is natural gas. Rising gas prices affects their total cost. Therefore, reducing energy consumption is our main aim and doing so will increase competitiveness of our products," said Robert Shetler-Jones. The CEO of Group DF also commented that reducing natural gas consumption would promote nature conservation.
According to Robert Shetler-Jones, Mr. Dmitry Firtash, owner of the group of companies, tasked specialists with developing projects which would reduce natural gas and electricity consumption at the nitrogen fertilizer plants he controls. "Several companies have already achieved positive results," noted Robert Shetler-Jones. In particular,
Rivneazot
, controlled by Dmitry Firtash, reduced its natural gas consumption down to 950-970 cubic meters per one ton of ammonia fertilizers which is comparable with volumes at newly-commissioned plants. Factories in the CIS countries consume an average of 1,050-1,100 cubic meters of natural gas per one ton of ammonia produced. This year, an energy efficiency improvement program is being introduced at
Stirol
plant. Its implementation will save 30-40 cubic meters of natural gas for each ton of ammonia output. Furthermore,
Rivneazot
has plans to install a steam generator this year, which will allow the company to generate electricity in the amount equal to 50 percent of its requirement.
"These innovative solutions will reduce production costs," said Robert Shetler-Jones. He believes that qualified professionals are indispensible for new energy saving technologies introduction. He said, "If the technology is very complex, we have to find people who understand how to come up with efficient solutions. Our competitiveness vis-à-vis European companies strongly depends on the availability of qualified personnel."