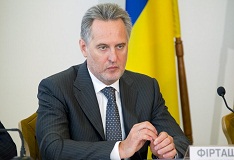 18 April 2016 Federation of Employers of Ukraine
Dmitry Firtash: Businesspeople Stand Ready to Cooperate With the Cabinet
The Ukrainian business community looks forward to cooperating with the new Cabinet of Ministers towards the country's economy restoration, said Mr. Dmitry Firtash, President of the Federation of Employers of Ukraine in his interview to Inter TV Channel.
"We expect the Prime Minister to resume the trilateral cooperation in which the government, unions and employers join forces," said Dmitry Firtash.
He further pointed out that businesspeople expect the head of the new government to make his first moves towards resuming the operation of the National Tripartite Socio-Economic Council as soon as during the next week. As this effort unfolds, the Federation of Employers is prepared to present to Vladmir Groisman, the head of the government, the program of the modernization of Ukraine devised by employers and trade unions jointly with the Agency for the Modernization of Ukraine and involving the National Academy of Sciences.
"It would have been critical that the Prime Minister pay attention to the Program of the Modernization of Ukraine. We have drawn up 26 steps which are essential to carry out. And we have already submitted for the parliament's review 5 laws which must be approved immediately to address today's challenges," stressed Mr. Firtash.
The FEU President also emphasized that the Modernization Program may prove effective as soon as within this year yielding a 5-percent rise in Ukraine's GDP.
"I think that we can see the effects as soon as before the end of this year. What will they materialize in? They will materialize in the number of jobs that will be created. They will materialize in wages. They will materialize in pensions rise. It's not just a cheap talk. It is a sequence of well-thought steps with projected effects that bring about a rise in each respective area: the social sphere, education, budget replenishment and the economy growth in general," stated Dmitry Firtash.
Speaking to a reporter of the
Details of the Week
program, Dmitry Firtash also expressed his hope that the newly appointed Cabinet will not repeat their predecessors' mistakes that led to the country's economic recession.
"I believe that over 20-plus years we have not had a situation in which the Prime Minister and the government are a perfect ivory tower and are completely divorced from what's going on in the production sector, what's going on in business, what's going on in the country. This leads me to think that there's really nothing to assess, the situation is catastrophic," maintained the FEU President. "I hope that the new Prime Minister will have enough courage and stamina to meet the challenge and to make sure that the government becomes a well-knit band capably led by its conductor," explained Mr. Firtash.
.