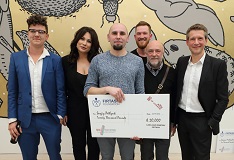 24 November 2015 Charity. Culture
Days of Ukraine in the UK Started In London
The Days of Ukraine in the United Kingdom annual festival of Ukrainian Art started with the UK/RAINE exhibition of emerging artists from Ukraine and the UK that opened in London; the first open competition worth GB£75,000 for emerging artists from the UK and Ukraine was held as part of the festival. The Days of Ukraine in the UK festival is held for the third consecutive year at the initiative and with the financial support of the Firtash Foundation charity founded by Dmitry and Lada Firtash.
Ukrainian Culture Festival started at the world famous Saatchi Gallery with a preview of works by UK/RAINE finalists.
During the opening of the exhibition, Lada Firtash, the founder of Firtash Foundation, noted that the development of Ukrainian culture was possible only in conjunction with other world cultures.
"That's why we decided to hold a competition for Ukrainian, as well as for British artists. This is not only an important experience for the young emerging artists, but also this is an extremely significant platform for cultural dialogue between our countries", said Lada Firtash, the founder and the CEO of the fund.
30 best authors under the age of 35, including students have become the finalists of the UK/RAINE competition of emerging artists. The artists presented their works into one of five categories: installation, new media (including video and photography), painting, sculpture and street art. The exhibition runs until January 3, 2016.
"The UK/RAINE competition received over 10,000 entries by 2,100 artists from different cities of Ukraine and the UK with a completely different professional experience. This indicates the importance of such initiatives, the need to create a new global platform for the creative environment", underlined Lada Firtash, speaking at the official opening of the exhibition.
Winners are: Dominic Beattie (painting), Jamie Fitzpatrick (Sculpture), Roman Mikhaylov (installation), Sergiy Petlyuk (new media), Dima Mykytenko (street art). Each of the category winners received GB£10,000, and the overall winner of the prize Sergiy Petlyuk received GB£20,000.
The winner of the public vote Olivia Bax received GB£5,000 of production costs towards her work, project or exhibition in order to support her future artistic endeavours.
UK/RAINE continues the collaboration between the Firtash Foundation and Saatchi Gallery as part of and follows on from the huge success of Premonition: Ukrainian Art Now. The exhibition entered the top 20 most visited exhibitions in the world, along with the exhibitions held in such renowned museums like MOMA, the Museum D'Orsay and the Tokyo National Museum.
"I would like to thank our friends – the Firtash Foundation – for their continued support of our joint projects aimed at getting contemporary art to the widest possible audience, and in particular – at the popularization of Ukrainian art in the world", said Nigel Hurst, Chief Executive of the Saatchi Gallery.