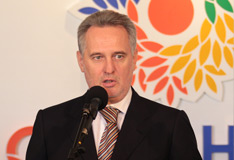 19 October 2012 Charity. Corporate Cities. Gorlovka
Culture Palace In Gorlovka To Undergo Capital Remodeling
During his visit to Concern Stirol, Dmitry Firtash, Head of the Board of Directors Group DF, pledged that Gorlovka-based culture palace "Culture, Sport and Commercial Center' (CSCC) will have been remodeled by the next year's Chemists' Day.
"We have made a decision about the complete renovation of Stirol's culture palace, and by the next year's Chemists' Day this effort will have been completed. We want to make a facility where Gorlovka citizens will be keen to spend their leisure with fun and comfort and to go in for different sports, where kids can enjoy interesting and useful activities to their liking," said Mr. Firtash.
CSCC Stirol seating 1200 visitors was erected in 1991. For over 20 years since its commissioning, the building has not seen any refurbishments whatsoever. By the end of May 2013, the remodeling works will have been completed on the culture palace's façade, roofing and lobby. The main stage will be furnished with LED screens, state-of-the-art light and sound equipment, most advanced air conditioning and heating systems will be installed in the odeum. The design also envisages the complete reconstruction of the square adjacent to the culture palace.
The investment budget for this remodeling effort is estimated to be around 40 million UAH.
"As recently as this past September we commissioned the fully restored culture palace in Cherkassy, completed a turn-key reconstruction project at the culture palace in Armiansk, and refurbishment works are underway in Krasnoperekopsk. These are the facilities we can deservedly take pride in. I am sure that enterprises must help the communities they are based in and this help should not be confined to just paying taxes. Investing in cities is about investing in people. If you care about people they will reciprocate, they will enjoy the job they do and contribute all they can into the ultimate success of the company," claimed Mr. Firtash.
The renovated palace is intended to host all major events and activities dedicated to the 80
th
anniversary of Concern Stirol.
NOTE
All remodeling and reconstruction works will be undertaken as part of the Preserve Your City program initiated by Dmitry Firtash, Head of the Board of Directors Group DF and President of the Federation of Employers of Ukraine. The businessman has been a vocal proponent of the maximum possible spread of the practice whereby cities' principal employers and simply large enterprises provide assistance to communities hosting them. This policy has been consistently implemented at all Ukrainian companies owned by Mr. Firtash: in Cherkassy, RIvne, Gorlovka (Donetsk region), Severodonetsk (Lugansk region), and in the Crimea – in Armiansk and Krasnoperekopsk.