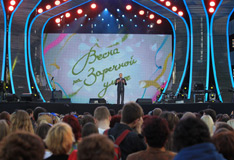 29 April 2013 Federation of Employers of Ukraine
Concert Dedicated To Spring and Labour Festival Gathered 40 thousand people
The concert "Spring on Zarechnaya Street" in Zaporizhya dedicated to Labor Day was attended by about 40 thousand people. Concert was organized by Inter TV channel and supported by the Federation of Employers of Ukraine.
People in Zaporizhya were enjoining hits of such famous Ukrainian singers as Alexander Ponomarev, Arsen Mirzoyan, Natalia Koroleva, Taisia Povaliy, Maria Yaremchuk, the Aviator band, Tina Karol, Boris Moiseyev, Verka Serduchka and Sofia Rotaru.
The festival has become one of the major events that were held in Zaporizhya over the last years. Several thousand people from Zaporizhya and neighboring regions came by 50 buses to see performance of favorite singers.
Singers that performed at the concert noted the emotions sincerity of thousands of spectators.
"We saw their sparkling eyes even from the stage. These are wonderful people who were born in beautiful families, in love, with faith in future", – said Taisia Povaliy after the concert.
Alexander Ponomarev and Arsen Mirzoyan performed the song "When spring comes, I do not know" from the film "Spring on Zarechnaya street". "This is a film about ordinary people. These hard-working people producing what the country needs are Ukraine's fundamental. They know how to work and know how to relax, and we saw it at the concert", – said Alexander Ponomarev.
Visiting the concert Vice Prime Minister of Ukraine Konstantin Grishchenko read out from the stage greeting of the President of Ukraine. People gathered at the concert were congratulated by President of the Federation of Employers of Ukraine Dmitry Firtash.
"Labor Day has no boundaries and time. This day is important for all of us", – said Dmitry Firtash.
The FEU unites more than 8500 enterprises producing about 70% of Ukraine's GDP. More than 5 million people are working on enterprises that are members of the FEU.
"On behalf of the Federation of Employers of Ukraine, I want to say a big thank for your work, for what you are doing for our country. This is a celebration of millions of people who work every day in thousands of factories and enterprises in Ukraine. Ukrainians are very hard working people with a great labor history. Love and respect for work have being passed from generation to generation and it is important to keep these traditions", – said President of the FEU.
The concert "Spring on Zarechnaya street" will be broadcast on Inter TV channel on May 11 at 7 pm and 8.30 pm.