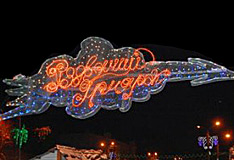 27 December 2013 Charity. Culture. Festival
Christmas Fair Opened in Chernivtsi
Chernivtsi hosted opening of the Christmas town that will delight residents until January 20, 2013. For the second year in a row, the Holiday Fair in Chernivtsi has been arranged by Lada and Dmitry Firtash's charity fund FIRTASH Foundation.
Last year's celebration were so much admired by the city residents that fund managers have decided to traditionally support the holding of Christmas Fair. So, during the holidays at the turn of the year 2013/2014 Chernivtsi residents will enjoy a fairy tale, and small Bukovyna inhabitants will have a possibility to meet with Santa Claus and elves in the Palace. Each guest will receive a gift from Santa Claus for narrated poem or song execution.
"Everyone is expecting for this time - adults who summarize and make some plans for the future and, of course, children for whom it is a time of miracles and gifts. We are delighted to congratulate Bukovyna inhabitants with upcoming holidays and again to present all children of the city a real fairy tale",- stressed Lada Firtash, the CEO of Firtash Foundation.
Celebrations held on the eve of the Christmas holidays have been a constant tradition in the world for several centuries. Lada and Dmitry Firtash, founders of the fund, wanted to create a fun atmosphere of a warm family holiday with the national coloration. Therefore, besides the traditional fair city residents will enjoy performances of national Ukrainian music and dancing groups with a real Christmas Nativity play.
As well as last year, the fund has presented a free month of skating at the 40-meter rink in the center of Chernivtsi, and has given small children an opportunity to ride a pony. Wooden pavilions at the Cathedral Square will also support the winter holidays atmosphere. Folk craftsmen products, toys and Christmas decorations, books and pictures will be presented there; - all this will help enjoying the atmosphere of the fair with national colors. And presented in pavilions bee products, bakery and confectionery products, original holiday goodies just will sweeten the celebration.
In addition, residents and guests of Bukovyna will have a possibility to take part in holiday quizzes and games at the Cathedral Square. Thanks to the financial support of FIRTASH Foundation the Main City Christmas Tree and the entire Cathedral Square will be particularly bright because this year there is a record number of garlands and Christmas decorations.
NOTE
The Firtash Foundation is a private charity founded by Dmitry and Lada Firtash. Its major objective is the provision of systemic and long-term support to education and culture in Ukraine, elevation of creative and intellectual potential of the Ukrainian youth.