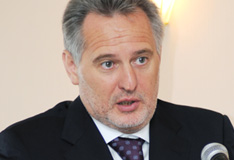 20 April 2011 Chemical Sector. Congress of Chemists of Ukraine
Chemical Industry – National Asset of Ukraine, Says Dmitry Firtash
The chemical industry is a strategic sector of Ukraine's economy and its national asset, stated Mr. Dmitry Firtash as he addressed the Congress of Chemists of Ukraine. The entrepreneur underscored that the chemical industry, ranking third in the exports rating, is a fundamental sector of the national economy.
According to Mr. Firtash, the role of mineral fertilizers producers is extremely important globally: the planet's population, having doubled over the past 40 years, continues to grow. In the future, the food production will have to be increased by 70 percent and this objective may only be achieved with reliance on chemical industry. "The sector faces a great future and the chemical business is one of the most lucrative investment targets," commented Head of the Board of Directors of Group DF.
He also pointed out that the President of Ukraine referred to the agriculture as to one of the key national priorities. "Perfectly clear messages were sent to nitrogen chemicals producers in the first instance. The agriculture can't do without us. No fertilizers, no agriculture," summarized Mr. Firtash.