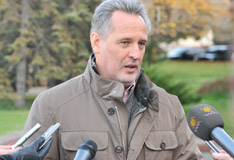 30 October 2011
Сapacity of Krymskiy TITAN Will be Doubled
Mr. Dmitry Firtash, Head of the Joint Employers Movement of Ukraine and Head of the Board of Directors of Group DF, intends to double the capacity of
Krymskiy TITAN
plant over the next three years. The entrepreneur made this statement in Simferopol following his meeting with Mr. Pavel Burlakov, the First Vice-Chairman of the Council of Ministers of Crimea.
Mr. Firtash is planning to invest about US$250 million in the development of
Krymskiy TITAN
. Ever since Dmitry Firtash became the company's shareholder, titanium dioxide outputs went up from 40 to 105 thousand tons. "Before the end of the next year, we plan to achieve a 125-thousand-ton capacity," noted the investor. Upon the completion of the sulphuric acid workshop construction which has already absorbed an investment of US$100 million,
Krymskiy TITAN
will be able to produce an additional 80 thousand tons of titanium dioxide. "We expect the plant to reach the capacity of 200 thousand tons of titanium dioxide," said Mr. Firtash.