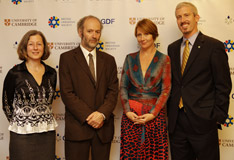 24 September 2010 Ukrainian Studies Program. Cambridge
Cambridge Ukrainian Studies Presented In Kiev
A senior delegation from the University of Cambridge arrived in Kiev to present the Cambridge Ukrainian Studies initiative which from now on will be working permanently at one of the world's most prestigious universities owing to financial support from Mr. Dmitry Firtash. Speaking at a press-conference, the guests told about the objectives of this initiative and what the public in the UK and Western Europe knows about Ukraine.
Prof. Rory Finnin, Head of the Cambridge Ukrainian Studies set the scene of discussion by outlining the most problematic issues. "Europeans need to learn about the Ukrainian language and culture. Europe has not seen a program like this for long. By and large, European universities seem not to notice Ukraine, its culture, language, literature and history. I call it the world's inverse hallucination. If hallucination is seeing what is not there, then the inverse hallucination is the failure to see what is there. Now, we finally have such a program. Our students will be able to learn the Ukrainian language and literature and this is great news for everyone," said Prof. Finnin.
"The interest in Ukraine is steadily growing. My students say that they feel like discovering something new and exciting as they start our course. It is only simple: they look at the map of Europe and see that the largest European country remains largely underexplored. And it is for this reason that they immerse in this material. They read Kotliarevsky, Shevchenko, Kulish, Kobylianska and others in the original and write fascinating essays afterwards," added Prof. Finnin.
Emma Widdis, Head of the Department of Slavonic Studies at the University of Cambridge, talked about the academic dimension of this initiative: "Cambridge students are obliged to study at least two foreign languages. But our department is not purely linguistic, it is also a center of culture studies. This means that we offer all our students courses in the Ukrainian language, literature and culture, as well as in history of the Ukrainian cinematography," said Dr. Widdis.
Simon Franklin, Professor at the Slavonic Studies Department and Head of Humanities at the University of Cambridge commented that such a program was being regarded as a necessity for quite a while. "The understanding of Ukraine, the studying of Ukraine on a fundamental level, is hardly ever seen in Western Europe In the United Kingdom we hear about Ukraine only when it is shaken by yet another political or economic crisis. Otherwise, it just stays away from the newspaper pages, and from people's minds. In our opinion, it is detrimental not only to Ukraine, but to us as well," said Prof. Franklin.
"For such a program to become a reality, it takes the right combination of circumstances and people. People willing to make it happen. Since the very time of inception and for a long while now, Mr. Dmitry Firtash has been providing his support to us. He has played a key and essential role in this program. Without him, we wouldn't have reached this stage," stressed Prof. Franklin.
Cambridge Ukrainian Studies was launched in 2008 at the Department of Slavonic Studies at the University of Cambridge with the financial support from Dmitry Firtash. This initiative is aimed at promoting and contributing to the study of Ukraine in the United Kingdom and beyond by deepening intercultural dialogue and advancing innovative approaches in the research on the rich historical, linguistic and cultural heritage of Ukraine. The Program is active in both academic and public spheres.
Mr. Firtash's recent benefaction enabled permanent endowment of the Cambridge Ukrainian Studies and ensured its existence for many generations to come. As part of today's visit, a ceremony of formal signature of the program funding agreement took place.