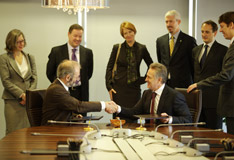 24 September 2010 Charity. Education. Cambridge Ukrainian Studies
Cambridge Becomes A Permanent Home For Ukrainian Studies
The University of Cambridge endowed permanent Ukrainian Studies program focused on Ukrainian culture and language learning. Permanent establishment of this program being unique in Western Europe has become possible due to financial support from Mr. Dmitry Firtash, a prominent Ukrainian businessman.
Cambridge Ukrainian Studies, an initiative of the Department of Slavonic Studies, was launched at Cambridge in 2008 with the support of Mr. Firtash. Its key objective is to deepen public understanding of Ukraine and to advance fresh, innovative approaches to research on the country which is a critical link connecting the 'East' and the 'West' and featuring a rich historical, linguistic and cultural heritage. The initiative has met with strong student and public interest in the United Kingdom and beyond.
Mr. Firtash's generous benefaction has enabled the permanent establishment of key academic posts central to the Cambridge Ukrainian Studies initiative, and secures the necessary resources for a pioneering undergraduate program and for various public events throughout the academic year.
"This gift ensures that Cambridge will be a vibrant home for the study of Ukraine for many generations to come," said Professor Simon Franklin, Head of the School of Arts and Humanities at the University of Cambridge. "Mr. Firtash has opened up new possibilities for teaching and research at Cambridge."
In only two years, Cambridge Ukrainian Studies has become one of the liveliest centers of activity at the Modern and Medieval Languages Department. Its courses offer undergraduates the opportunity to explore both canonical and formerly suppressed works of literature and film in the Ukrainian original, from the impressionistic prose of Mykola Khvylyovyi to the cinematic masterpieces of Oleskandr Dovzhenko. Its postgraduate workshops, open to students throughout the UK by application, feature the foremost experts in the fields of Eastern European history and society.
A special focus of Cambridge Ukrainian Studies has been public education. It organizes a popular Annual Festival of Ukrainian Film. Prominent researchers on Ukraine from around the world give public lectures and seminars about contemporary Ukraine and its history. These events have been attended by various prominent public figures, including representatives of the British Parliament, the Ukrainian Embassy and BBC.
Cambridge Ukrainian Studies regularly publishes a podcast series (CambridgeUkrainianStudies.org), and mounts exhibitions that seek to educate the public about the artistic and historical legacy of Ukraine. 'Verse in Vision,' an exhibition of prints by Taras Shevchenko, introduced Cambridge audiences to the art of the renowned poet and painter. 'The 1932-33 Diaries of Gareth Jones,' held at the Wren Library, Trinity College, put stirring historical documents from a heroic journalist on display for the first time and garnered extensive media coverage around the world. These events were organized by Dr. Rory Finnin, Lecturer in Ukrainian Studies.
"Ukraine is a fascinating country that has been understudied for far too long," noted Dr. Finnin. "We are committed to seeing Ukrainian
Studies grow as an exciting and diverse academic field in Europe and to contributing to this growth to the greatest extent possible."
A senior delegation from the University of Cambridge visited Kyiv, Ukraine on 24 September to sign a formal agreement with Mr. Firtash covering financial support of the program.