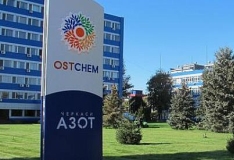 23 July 2016 Chemical industry. Education. Development of enterprise
Azot Forms Talent Pool For Ukraine's Chemical Industry
Cherkasy Azot, part of Dmitry Firtsh's OSTCHEM holding company (consolidating Group DF fertilizer enterprises), gave students of Cherkassy State Technological University an opportunity to get their first production qualification.
As a result of a comprehensive training and production practice, which students had been passing during the five months, 18 young professionals got the operator qualification in specialty "Chemical technology of inorganic substances".
Dmitry Firtash is sure that by forming a highly professional talent pool for the Ukrainian enterprises Group DF promotes the growth of intellectual capital – the country's main asset.
"If there are no specialists, then what prospects we can talk about, and what investments will come into the country? Who will invest in Ukraine, if investors are to see that we do not have specialists who can do the job?", said Dmitry Firtash, the owner of the enterprise.
The company continues to provide students with the basis for practical training under a special program, which gives students the opportunity to prepare for their future profession, and acquire more practical experience, said Azot HR Director.
"We are interested in qualified personnel able to effectively perform their duties immediately after finishing universities", said Ihor Serhienko.
Practical training was held on the program developed by the Azot Training Centre, and took place in the structural divisions of the enterprise and directly in manufacturing workshops.
"My classmates and I undertook an internship on a large-scale production. This is an incredible experience. Now, we will acquire theoretical knowledge given by teachers in a different way", - said Kateryna Redka, Cherkasy University student.
In general, since the beginning of 2016, about 100 students from different educational institutions of Ukraine improved their skills in PJSC "Azot".