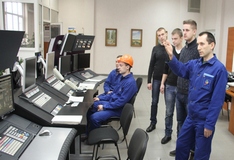 26 February 2015 Education
About 400 Students To Do Practical Training at Severodonetsk Azot
Severodonetsk Azot, part of OSTCHEM holding owned by Dmitry Firtash, will give the best students of chemical faculties of universities, colleges and lyceums an opportunity to do practical training at the enterprise with the possibility of further employment.
About 400 students of the Dal Technological Institute, Severodonetsk chemical-mechanical college, vocational schools, as well as students receiving chemical education will gain practical skills and knowledge necessary to work at the plant.
"After graduating, the best students will have an opportunity to get job at Azot. That's why we offer an opportunity to become familiar with the business, to receive the necessary production skills", said Leonid Bugaev, the Chairman of the Severodonetsk Azot Council.
The Azot management identified business units' needs of interns in various specialties for students getting first experience in production. The students will be supervised by the Azot experts that completed course of pedagogy and psychology in the special education center.