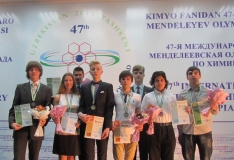 26 May 2013 Charity. Education
Ukrainian Pupils Overmastered International Mendeleev Olympiad
Ukrainian team brought eight medals from Uzbekistan where the 47
th
International Mendeleev Olympiad – prestigious chemistry competition among pupils of CIS countries, Baltic and South-Eastern Europe states – took place. For seven days, 118 students from 17 countries were testing their theoretical knowledge and practical skills. As a result, Ukrainian team composed of eight 10-11-grade students won two golden, two silver and four bronze medals.
Olympic gold medals were won by Andriy Stelmakh, a graduate of the Lviv Physics and Mathematics Lyceum at Lviv Franko National University, and Olexander Vyhivskyy, a graduate of Kharkov School #47. Kiev students Khristophor Khokhlov, who studies at the Science-natural Lyceum #145, and Maria Anapolska, a graduate of the Kyiv-Pechersk Lyceum # 171 "Leader" brought silver medals. Bronze medals were won by four Ukrainians: pupil of Kiev Lyceum #100 Roman Didenko, a graduate of Vinnytsya Physics and Mathematics School #17 Olexander Liashuk, pupils of Lviv Physics and Mathematics Lyceum Oleg Gordiychuk and Vladislav Neshta.
OSTCHEM holding, which consolidates Group DF's nitrogen fertilizer producers, became the general sponsor of Ukraine's national team. Support to School Chemical Education project was initiated by Mr. Dmitry Firtash, the founder of Group DF.
"We, as a group, will continue to support development of chemical education, provide additional opportunities for young people and motivate them. We want these talented people to work at Ukrainian enterprises for the sake of chemical sciences of Ukraine. Supporting a new generation is a key challenge"– said Dmitry Firtash.
"International competitions of this level are very important for young talents: they allow testing knowledge and ensure in abilities. We have an opportunity to participate in the International Olympiad due to big chemical companies that believe in our students and provide support to our talented pupils", – commented Lilia Oleksyn, teacher of Lviv Physics and Mathematics Lyceum, who prepared three winners of this year competition.
For the second year in a row, OSTCHEM company has been supporting organization of All-Ukrainian Chemistry Olympiads among pupils, as well as supporting participation of Ukraine's national team in various international competitions. We award winners of national chemistry contests and their teachers with special prizes and scholarships. This year, OSTCHEM awarded winners of the All-Ukrainian Olympiad with tablet PCs.
OSTCHEM covered all organizational and logistics expenses of the team, as well as provided it with necessary technical equipment for the chemical laboratory at the Karazin Kharkiv National University, the training base of the national school team for international chemistry competitions preparation.
The curator of the International Olympic chemistry team of Ukraine Yuriy Kholin expressed gratitude to OSTCHEM for years of chemical education support: "Chemistry is an experimental science; it needs the most modern equipment. Thanks to the sponsors' support the Ukrainian team not only attended the Olympiad, but also had the opportunity to prepare for the competition on modern chemical equipment", – said Yuriy Kholin, Vice-President of Kharkiv National V.N. Karazin University.
Moreover, four out of eight pupils getting the best results at the Mendeleev Olympiad will go to the 2013 International Chemistry Olympiad taking place in Moscow and gathering participants from 80 countries of the world.
At the moment, young chemists are preparing for the qualifying stage, which will be held from 5 to 12 June on the basis of Kharkiv National V.N. Karazin University. The four students who will show the best results, with the support of the OSTCHEM Holding, will travel to Russia to represent our country at international competitions.
According to the results of last year International Chemistry Olympiad among schoolchildren in the United States, Ukrainian team got into the world top ten.
NOTE
International Mendeleev Olympiad (IMO) is a chemistry competition among high-school students of a number of CIS countries, Baltic and South-Eastern Europe states held annually at the end of April – beginning of May. This Olympiad includes three rounds – two theoretical and one practical, following which participants receive the gold, silver, bronze medals or a certificate of participation.