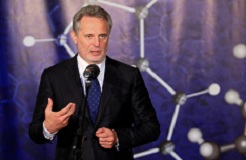 23 May 2013 Federation of Employers of Ukraine. Chemical Sector
200 Thousand Jobs Can Be Created In Chemical Industry
Ukraine can reduce import by 10-15% if import substitution program is implemented in chemical industry. This was stated by the President of the Federation of Employers of Ukraine Dmitry Firtash.
"Protection and development of the domestic market are big recourses which are not fully used. Many industries can manufacture products imported from other countries. Only in chemical industry import substitution potential figures up to USD 10-13 billion a year", – stressed President of the Federation of Employers of Ukraine.
According to him, Ukraine can increase production of goods made of rubber, plastic, chemical fibers, and tires. At this time, Ukraine imports about 80-90% of such products.
"If we develop production in Ukraine we will create new jobs. Our estimates show that if Ukraine manufacture imported products of chemical industry, nearly 150-200 thousand of new jobs will be created", ­– said Dmitry Firtash.
President of the FEU noted that Ukraine should follow the example of developed countries that try to reduce volumes of import and use capacities within countries.
NOTE
On May 26 Ukraine celebrates the Day of Chemist. 6.5 thousand Ukrainian chemical companies employ more than 125,000 people. Chemical industry produces about 120 thousand kinds of products supplied to the domestic market and exported to more than 80 countries on four continents.
According to the State Statistics Service of Ukraine, in 2012 chemical industry accounted for 8.9% of total exports (6.058 billion dollars).