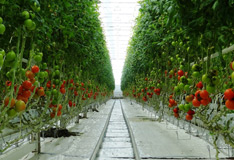 21 May 2013 Help Your Homeland. Greenhouse Complex in Synkiv
DF Agro Recognized As The Best Agricultural Enterprise of Ukraine
The largest in the Western Ukraine greenhouse complex DF Agro (Synkiv) has taken the lead in the authoritative rating "Agrarian Elite of Ukraine" in the "Debut of the Year" nomination. The rating was compiled by a specialized edition The Ukrainian Farmer, which has been highlighting the top 100 agricultural enterprises in Ukraine for the third year in a row.
"Experts have given primacy to DF Agro because today it is the first and the only greenhouse complex in Ukraine built from scratch using the latest technology", – said the director of the AGW Media publishing house Gennady Vorobyev.
At the moment, the Synkiv (The Chairman of the Group DF Supervisory Council Mr. Firtash's native village) facility in Ternopil region is the most advanced greenhouse in Ukraine.
The director of the greenhouse complex Victor Gordash noted that the creation of the enterprise was of national importance and helped to reduce Ukraine's dependence on import.
"Due to DF Agro Ukraine has received a significant increase in the production of vegetables. Moreover, greenhouse complex in Synkiv is not just business. This is a great social project for the region. Indeed, the owner not only financed the construction of greenhouses and created new jobs, but also fully restored village infrastructure", – said Victor Gordash.
Speaking at the ceremony Mr. Firtash referred to the newly built greenhouse as to a major driver of the region's economic development. "We have built one of the most advanced greenhouse enterprises in Europe. It is not simply about jobs for the local citizens, it is about tax revenues for the region. It is about funds to develop social infrastructure, to improve quality of life. One facility of this kind means a powerful boost for the whole region's development," said Mr. Firtash.
Now the area of ​​the greenhouse complex is 10 hectares. According to a preliminary business plan, the total area of ​​the complex will be increased to 40 hectares.

NOTE
DF Agro has a production capacity of 4 thousand tons of tomatoes, 1.55 thousand tons of peppers and 350 tons of cucumbers. The level of technological support in the facility is really hard to match in Ukraine: the greenhouses are equipped with 24-hour lighting and a sprinkling watering system. The complex includes storage and packing workshops, as well as a seedling greenhouse capable of growing 8.4 million plants per annum. The size of investment in the construction of the greenhouse complex and the development of infrastructure in rural areas totaled about 30 million dollars.
Products of DF Agro (Synkiv) are sold in Ukraine and the CIS under the brand name "Synkiv Fair".