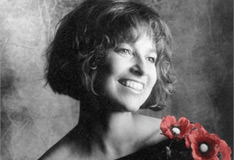 6 April 2013 Culture
Kvitka Cisyk's Songs Are Timeless – Dmitry Firtash
On April 4, 2013 it would have been the 60th birthday of Kvitka Cisyk, the world-famous singer of Ukrainian origin. To mark the anniversary Inter TV channel made the documentary "Kvitka. Single copy voice". Pre-opening night screening of the film in Kiev, Lviv, Ternopil, Ivano-Frankivsk, Odessa, Lugansk and Chernovtsy was attended by several thousand people.
The film was dedicated to a touching talent of the famous singer, whose songs have brought up a new generation of ethno-stars. The authors of the documentary "Kvitka. Single copy voice" tried to discover the phenomenon of this person. They tried to find an answer to the question – why the songs performed by Kvitka Cisyk have been having truly hypnotic effect on people for more than several decades. The film premiered on April 5 at the Inter TV channel. Despite the fact that the film was released at midnight it was watched by millions of people.
"I watched the documentary about Kvitka Cisyk with great interest and excitement", - said the Chairman of the Group DF Supervisory Council and Inter Media Group shareholder Dmitry Firtash. - The songs performed by her evoke many childhood memories. I was born and raised in western Ukraine, the region, where these songs are a part of life, people know them by heart. These songs are timeless. I think that people like Kvitka Cisyk allow millions of Ukrainians in different countries to stay in touch with their homeland and culture".
Due to the fact that Inter+ satellite version is broadcasting in Russia, European and North America countries Ukrainian people abroad had a possibility to watch the film about outstanding singer.
"We had no doubt about the success of the film, because millions of people are waiting for such television projects", – mentioned the head of Inter Media Group Ganna Bezliudna. – For many people in our country the historical memory, the deep emotional distress, the comprehension that we are not strangers to each other are very important. Goals of television, especially of the country's main channel, are much wider than informing and entertaining. We see the mission of Inter Media Group and Inter channel in creating events that unite people. Therefore similar projects will appear in the air of our channel in the future", - said the General producer of documentary about Kvitka Cisyk Ganna Bezliudna.
NOTE
Kvitka Cisyk was born on April 4, 1953, in New York's Queens, in the family of Ivanna and Vladimir Cisyk, post-war immigrants from western Ukraine.
Kvitka Cisyk had a very rare coloratura soprano timbre. Besides, she could sing in a peculiar way called "white voice".
In the U.S. Kvitka Cisyk better known as Cassie. Her voice is known by almost every American. Cisyk achieved her widest success as a singer of musical jingles used in TV and radio commercials for such companies as Coca-Cola, American Airlines, McDonald's, Ford. Cassie sang backing vocals for such stars as Michael Jackson and Whitney Houston. The Kvitka's vocals sounded on American radio stations more than 22 billion times.
In 1990, Kvitka Cisyk's collection of songs was nominated for Grammy in the category Best album of contemporary folk music.
After Ukraine gained its independence Kvitka wanted to give a series of concerts in the country. Unfortunately, her dreams have not been fulfilled – on March 29, 1998 she died from breast cancer.