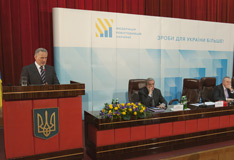 20
March

2013 Federation of Employers of Ukraine. Promotion of Enterprise
Ukrainians Trust In Business More Than In Political Parties
About 70% of Ukrainians have a positive attitude towards entrepreneurs as a class, and a third of respondents put a great deal of trust in business for economic development. These are the results of a sociological survey conducted by Social Monitoring Center on demand of the Federation of Employers of Ukraine, said President of the Federation Dmitry Firtash in Zaporizhzhya during a meeting with heads and owners of over 200 largest and medium-sized enterprises and leadership of Zaporizhzhya Regional State Administration.
"Business is trusted more than political parties. Today there are no discrepancies between business and society in Ukraine. Employers are a real social power trusted by the society. They implement changes in the country and people lay big hopes on them", - stressed Dmitry Firtash.
According to him, the future of Ukrainian economy depends on how entrepreneurship will be developed. "We need a class of people who will be entrepreneurs at bottom, who will be creators. Country can be developed only by people who are long term thinkers, who do not afraid to do what employers do. Who is an employer? That is a man who takes responsibility not only for how to pay salaries today or pay taxes, but also for tomorrow. That's why it is very important to develop entrepreneurship", - said Dmitry Firtash.
The President of the FEU announced that the survey results would be released in late March.
NOTE
In early 2013 Social Monitoring Center on demand of the Federation of Employers of Ukraine conducted a comprehensive sociological study of public opinion. It included a nationwide survey amongcitizens and target groups of entrepreneurs. Totally, 2,000 of respondents were polled in all regions of Ukraine.