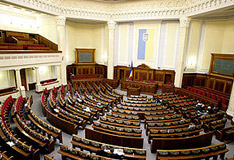 19 March 2013 Federation of Employers of Ukraine. Promotion of Enterprise
Employers Will Be Represented By The Interfactional Group In The Parliament
Interfactionalgroup of employers established in the Parliament will push for laws important to domestic producers and address the issue of unemployment, said the President of the Federation of Employers of Ukraine Dmitry Firtash in Zaporizhzhya commenting on the creation of interfactional union of People's Deputies "For domestic industrialists and entrepreneurs – Employers of Ukraine".
"It is very important that this interfactional union of employers was formed in the Parliament. These are people from different factions, both the government and the opposition. However, they have one thing in common - they think in terms of economy, not politics. Everyone understands what it means to build a large factory or create jobs in small businesses", – said Dmitry Firtash.
According to the President of FEU, MP and the Chairman of the Association of employers' organizations in Kharkiv region Anatoliy Girshfeld, who led the union, has vast experience in industry, manufacturing, and knows what is needed for the economy. "There is a package of priority laws that are critically needed for domestic manufacturers to solve the problem of unemployment. Specifically, the laws on industrial policy, on technical regulations for products sold in Ukraine, changes to the law on public procurement to provide Ukrainian producers and importerswith equal conditions", – said Dmitry Firtash.
Chairman of Zaporizhzhya Regional State Administration Aleksandr Peklushenko also supported the establishment of interfactional union. "Intergovernmental group establishment is an important event, because it unites people who will not engage in politicking, but who will take care of the national industry," – said Aleksandr Peklushenko.