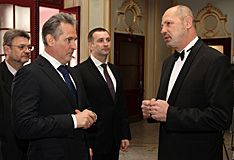 8 February 2012 Charity. Culture
Dmitry Firtash To Continue Financial Support To Theater, Philharmonics And Museum In Chernivtsi
Meeting with artistic staffs and culture activists of Chernivtsi region, Mr. Dmitry Firtash, President of the Federation of Employers of Ukraine and Head of the Board of Directors of Group DF, pledged that he will keep pursuing the financial support to the Regional Theater, to the Philharmonics and to the Fine Arts Museum.
During this meeting, Mr. Mykhaylo Papiev, Governor of Chernivtsi Region, informed that the total budget of the theater revamp equals 11 million UAH while the actually received amount of government's appropriations is only 2 million UAH. After the tour of the theater, Mr. Firtash vowed to commit an additional 9 million UAH to complete the remodeling.
"Chernivtsi is one of Europe's historical and cultural centers. And it is a great honor and privilege for me to be involved in the resurrection of Bukovyna's cultural and historical legacy," said Mr. Firtash. "Today, it is more than just a city, it is a brand and anyone of Chernivtsi descent says it with a great pride," added the FRU President. He cordially thanked staffs of the theater, philharmonics and museum, all of the artists assembling in the Regional Theater for contributing into the preservation of Bukovyna's cultural and historical heritage.
"Bukovyna is a unique community where traditions and history of multiple epochs and cultures intertwine. Today, the multicultural and multiethnic Bukovyna is a jewel in Ukraine's crown," said Mr. Firtash. "The theater and the culture at large have gone through a lot of hard times over the past 20 years. Too often funding was unavailable not only for remodeling but even for the bare necessities. I hope these hardships are left behind. I wish to thank you all for your endurance and commitment in preserving the cultural and historical treasures for our and future generations," said Mr. Firtash speaking to Chernivtsi art and culture community.
Mr. Mykhaylo Papiev, Governor of Chernivtsi region, thanked Mr. Firtash for his support in the restoration of the regional theater, museum and philharmonics. "Even when the government is short of funds, there are volunteers of local descent helping re-edify the culture and preserve the national heritage," said he. Mr. Papiev also stressed that owing to Mr. Firtash's support, the regional theater revamp works will be completed before the end of the current year.
The assistance donated by Mr. Firtash will be channeled to the reconstruction of Chernivtsi Academic Regional Music and Drama Theater. On top of that, for the first time in many years, maintenance and repairs of an organ of Chernivtsi Regional Philharmonics will be completed. Also, repairs will be made in the building of Chernivtsi Regional Museum of Fine Arts.
Chernivtsi Olga Kobylianska Academic Regional Music and Drama Theater was built 105 years ago. Its architecture and interior décor is no inferior to the Vienna theater. Iconic singers like Enrico Caruso and Fyodor Chaliapin used to perform in this theater.
The Chernivtsi Philharmonics building was erected 135 years ago with donations of music aficionados.