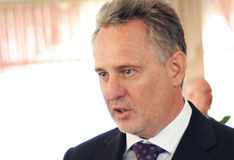 20 April 2011 Chemical Sector. Congress of Chemists of Ukraine
Dmitry Firtash: "We Have to Engage Science in new Technologies Development"
Speaking at the Congress of Chemists of Ukraine, Dmitry Firtash said he was certain that the advanced processing development is a key to future success of Ukrainian chemical industry. Mr. Firtash pointed out that nitrogen fertilizers production is closely tied to the cost of fuels and energy, and is a cost-intensive business. Therefore, new technological solutions development and implementation is a priority must. The Head of the Board of Directors of Group DF further cited an example of one of the global industry leaders – concern BASF that is withdrawing from nitrogen fertilizers production and focusing instead on advanced processing. This is precisely the area where Ukrainian chemical sector lags behind the world's leading chemical industries. "Our chemical sector is 78 years old. Over these 78 years we, unfortunately, failed to achieve something special in the business we all belong to. Unfortunately. We may improve production, we may invest funds, but we never came up with something special. And I find it a real problem. If we, building on our resource base, started to develop a more advanced processing capacity now, we most certainly would have achieved something in 10 or 15 years."
The entrepreneur also explained that while visiting the Cherkassy-based 'Azot' plant, he was by and large satisfied with the company. Yet, he underscored that the enterprise lacks the processing capacity which would enable the manufacturing of costly technology-intensive products. Mr. Firtash commented that his representatives had already had discussions with a series of R&D institutions towards the end of finding solutions to this challenge.