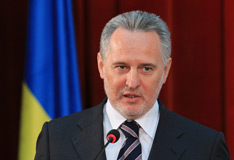 13 October Development of enterprise.
Dmitry Firtash Plans to Establish all-Ukrainian Fund to Support SME
Dmitry Firtash is working to establish an all-Ukrainian fund to support business activities. This was stated by Dmitry Firtash, the Head of the Joint Representative Body (JRB) of the employers' party, in an interview to
RBK-Ukraine
.
Dmitry Firtash said that the model of the nationwide fund was based on the experience of the Bukovina venture fund operation in Chernivtsi, the main initiator and investor of which was Dmitry Firtash's Group DF group of companies.
"We invested 3 million hryvnias in Bukovina fund, the fund has been operative for 5 years now yielding good results. We created 500 jobs, supported a number of companies that had been close to going out of business and they literally lacked peanuts to survive. So, they got by, paid us back and started to expand, we've seen concrete results", Dmitry Firtash said.
According to Dmitry Firtash, it is planned that the nationwide fund will maintain operating companies, promote start-ups launch and business platforms opening, that will encourage Ukrainians to start business.
"I want Ukrainians to start awakening. I want to show that it doesn't take being a president, a prime minister or an MP to make something happen in this country", Dmitry Firtash said.