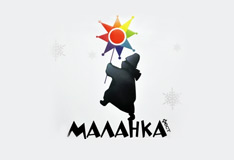 15 January 2014 Charity. Culture. Festival
Ukrainian Malanka Gains Global Popularity
Chernivtsi hosted traditional festival 'Malanka-fest' marking national Ukrainian holiday Malanka. This year the carnival has acquired the status of international festival. Thus, the celebration was attended by troupes from three countries. For the second year in a row the festival was held due to the support of the
FIRTASH Foundation
Charity established by Dmitry and Lada Firtash.
During the festival the total of 42 troupes from Chernivtsi, Ivano-Frankivsk, Lviv, Cherkasy regions, as well as from Moldova and Romania showed their performances to the audience several thousand strong.
During the festival ceremonial opening the Head of the Chernivtsi Regional State Administration Mykhaylo Papiev stressed that such celebration was a tribute to old Ukrainian traditions which Ukrainians were devoted to.
"Our region is proud of its Malanka and we are doing our best to popularize region's uniqueness. We are glad, that the FIRTASH Foundation Charity has been promoting our traditions not for the first year. I want to express gratitude for festival support to Dmitry and Lada Firtash. And I want to thank them for the Christmas town for Bukovyna children, which has was traditionally organized by the FIRTASH Foundation in Chernivtsi", – said Mykhaylo Papiev.
According to the Chernivtsi region governor, Bukovyna Malanka is an authentic national carnival, a unique phenomenon in European culture, which is worth of receiving status of UNESCO world cultural heritage.
"The main aim of Malanka-Fest is to preserve old folklore culture. Malanka consists of ancient traditions and modern emotions. This festival – and we assure in this every year – creates special atmosphere in Chernivtsi and our region of unique culture and authentic character.
That's why we are not surprised that the festival has been attended by guests from many places", – added Mykhaylo Papiev.
Malanka-Fest is traditionally celebrated across Ukraine on January 13, while most colorful events take place in Chernivtsi, Ternopil, Ivano-Frankivsk, Khmelnytsky and other Western regions. Afterwards, on January 15, the amateur troupes flock in Chernivtsi to select the best of the best in a fun competition. Representatives of different regions highlight their unique local traditions reflected in their costumes, songs and theatrical performances. The most creative troupes compete for a prize fund sponsored by the festival organizer – the FIRTASH Foundation Charity.

NOTE
The FIRTASH Foundation is a private charity founded by Dmitry and Lada Firtash. Its major objective is the provision of systemic and long-term support to education and culture in Ukraine, elevation of creative and intellectual potential of the Ukrainian youth.
The Malanka festival is the most joyful feast in the year featuring lots of music, dances, dramatized performances and carnivals, nice costumes all permeated by the Ukrainian traditional flavor. For centuries, this has been the most beloved massive folk festival for hundreds of neighborhoods, especially in Bukovyna and Bessarabia.