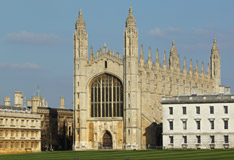 10 December 2010 Charity. Education. Cambridge-Ukraine Studentships
University of Cambridge Introduces The Cambridge-Ukraine Studentships And Opens Applications
The University of Cambridge is launching the Cambridge-Ukraine Studentships initiative with financial support from a Ukrainian businessman Dmitry Firtash. This initiative will enable the most talented students from Ukraine to study at Cambridge for free.
During the 2011-12 academic year, the Cambridge-Ukraine Studentships will finance the study of first five Ukrainian students at one-year postgraduate courses at the University of Cambridge.
"Ukrainian students can choose from a wide variety of nearly 50 courses of study – ranging from Archaeology, History and Literature to Linguistics, Economics and International Relations," commented Dr. Emma Widdis, Head of the Department of Slavonic Studies at the University of Cambridge.
As she explained, at this first stage the Studentships will cover the courses directly related to or supplementing the Cambridge Ukrainian Studies initiative which has been successfully running at the University of Cambridge for its third year, also with financial support from Mr. Dmitry Firtash.
Prof. Rory Finnin, Head of Cambridge Ukrainian Studies, underlined that the presence of a strong group consisting of the very best students from Ukraine will enrich the life of the multinational community at the University of Cambridge. "Ukrainian students will contribute to promoting awareness and deepening understanding of Ukraine among our students from around the world, who will later rise to leading positions within different spheres of activities. In a way, all of them will become ambassadors of Ukraine to the world," explained Prof. Finnin.
"By previously establishing the Cambridge Ukrainian Studies, and now the Cambridge-Ukraine Studentships, essentially, we have established the informal Embassy of Ukraine to the largest educational and scientific center of the world," explained Mr. Firtash. The Ukrainian businessman is also convinced that this initiative will be instrumental in helping the most talented Ukrainian youths to obtain access to advanced European educational and professional experience and expertise.
The studentships are available to citizens of Ukraine who are offered admission to the University of Cambridge and who will have achieved Bachelor degree by October 2011. Applications to study must be filed no later than January 31, 2011. Successful applicants will receive notifications in May 2011. The studentship will cover the University and College fees as well as maintenance depending on a student's financial needs.
The selection of successful applicants will be administered by a special committee at the University of Cambridge headed by Dr. Widdis. The committee will include representatives of the School of Arts and Humanities and the School of Humanities and Social Sciences. The preference will be given to students with outstanding academic records and English skills, but also with personal qualities that mark them out as potential leaders capable of making significant contributions to society.
For more information on the Cambridge-Ukraine Studentships and the list of available courses of study please visit:
Cambridge Trust