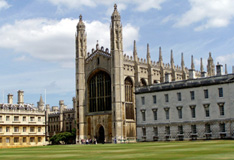 2 September 2011 Charity. Education. Cambridge-Ukraine Studentships
University Of Cambridge Extends The Cambridge-Ukraine Studentships And Opens Applications For 2012-13
University of Cambridge extended the Cambridge-Ukraine Studentships for the 2012-13 academic year, thanks to continued financial support from a prominent Ukrainian businessman Dmitry Firtash and a strong interest from Ukrainian students.
'We have seen dramatic increase in the number of applications from Ukraine. Many young people, who could not afford to pay for their study at the University of Cambridge, now know that they have this chance to study for free thanks to the Cambridge-Ukraine Studentships initiative', said Dr. Emma Widdis, Head of the Department of Slavonic Studies at the University of Cambridge. 'We are pleased that this initiative meets its objective of giving the most talented young Ukrainians an opportunity to obtain such a prestigious education and excel in their professional fields'.
The Cambridge-Ukraine Studentships was established in 2010 on the initiative and with financial support from Dmitry Firtash. For the 2012-13 academic year, the studentships will be granted to 5 students who aim to pursue a one-year postgraduate course in any arts, humanities or social science subject at the University of Cambridge, with nearly 50 available courses of study.
The studentships are available to citizens of Ukraine who are offered admission to the University of Cambridge. Candidates must until August 2012 to achieve a high enough academic qualification, and proficiency in the English language, to be accepted on their chosen course of study. The applications will be accepted between 1 September 2011 and 2 December 2011. Successful applicants will receive notifications in May-June 2012.
The studentship will cover the University and College fees as well as maintenance, according to financial needs of the student. The selection of successful applicants will be administered by a special committee at the University of Cambridge headed by Dr. Widdis. The preference will be given to students with outstanding academic records and English skills, but also with personal qualities that mark them out as potential leaders capable of making significant contributions to society.
For more information on the Cambridge-Ukraine Studentships please visit:
Cambridge Trust