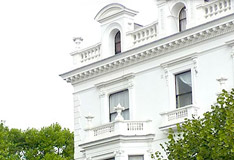 17 May 2011. Charity. Education. Cambridge-Ukraine Studentships. Ukrainian Catholic University
Ukrainian Studies Internationally: Yesterday, Today And Tomorrow
The Ukrainian Institute in London hosted a talk Ukrainian Studies Internationally: Yesterday, Today, and Tomorrow featuring Dr. Rory Finnin, Head of Ukrainian Studies at the University of Cambridge, and Rev. Borys Gudziak, Rector of the Ukrainian Catholic University, on May 17
th
2011.
Rev. Borys Gudziak spoke about the development of Ukrainian studies in the 19
th
and 20
th
centuries across the former Soviet Union and the Diaspora, focusing on various funding models of Ukrainian institutions. In particular, he stated: "Ukrainian studies, and Ukrainian scholarship in general, overcame incredible obstacles in the 19
th
and 20
th
centuries. Many important educational projects, institutes and publications never materialized because of the lack of Ukrainian statehood and very limited funding. Considering the difficult situation in the motherland, the role of scholarship and Ukrainian institutions in the Diaspora played a very great role. International Ukrainian studies influenced not only the discipline in the homeland but all studies in Ukraine. This cross-fertilization allows for new standards and qualities in higher education. Today UCU is rethinking the nature of university education by engaging the whole person. The new UCU campus will have a holistic, socially integrating quality. "
Dr. Rory Finnin discussed the mission of the Ukrainian Studies program at the University of Cambridge, highlighting its recent achievements and outlining its future. "From our annual Festival of Ukrainian Film to our many exhibitions, literary readings, and public lectures, Cambridge Ukrainian Studies has captured the interest and attention of students, scholars, and the general public throughout Great Britain," he said. "We have been able to do so by offering audiences a fresh perspective on the fascinating and diverse culture of Ukraine and by working in tandem with our colleagues in the country, including our supportive benefactor, Dmitry Firtash. Our plans for the future of Ukrainian Studies in Europe are exciting, and we are very pleased to collaborate with prestigious institutions like the Ukrainian Catholic University to realize these plans."
Cambridge Ukrainian Studies
The mission of Cambridge Ukrainian Studies is dissemination and promotion of knowledge about Ukraine in the UK and beyond. The course offers a fresh approach to exploring a largest country in Europe positioned at the East-West crossroad and boasting rich historical, cultural and linguistic heritage. The Ukrainian Studies is an ongoing course at Cambridge launched and run owing to charity donations from a Ukrainian entrepreneur Mr. Dmitry Firtash.