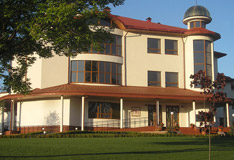 3 November 2011 Charity. Education. Ukrainian Catholic University
Ukrainian Catholic University Must Become Center Of Modern European Education In Ukraine
Interviewed by
Den
daily, Mr. Dmitry Firtash, Head of the Board of Directors of Group DF referred to the Ukrainian Catholic University (UCU, Lviv) as to a unique educational institution featuring an unmatched teaching methodology and style.
'This University has a very special teaching methodology and style. People there are brooding of the creation of a European-type University. I want Ukraine to have its own Cambridge. By 2015 when the construction is over, UCU must become a center of modern European education in Ukraine,' commented Mr. Firtash.
He further told that Cambridge students attending the Ukrainian studies program will be referred for apprenticeship at UCU: 'Today, there are about 50 students studying the Ukrainian culture and language: Americans, English, Germans, Chinese… Can you believe it how Ukraine is interesting? Soon, their apprenticeship will be organized in Ukraine. Cambridge chose the Ukrainian Catholic University as a base for it."
NOTE
UCU is the only catholic university in all of the ex-USSR countries.
Since 2010, UCU has been pursuing its campus construction project expected to be completed in 2015.
Dmitry Firtash is the major donor into UCU's campus construction.