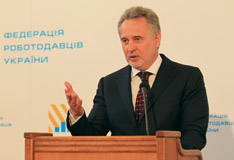 25 April 2013 Promotion of Enterprises
Ukraine Needs An Economic Development Plan Uniting Society
Ukraine needs plan for economic development that would unite the whole society. This was stated by President of the Federation of Employers of Ukraine Dmitry Firtash during the meeting with managers and owners of more than 100 companies and the leadership of the Kirovograd region.
According to Dmitry Firtash, Ukraine can play a key role in meeting the global demand for food and can plan the development of its economy based on agriculture.
"Agriculture is directly connected to 30% of all Ukrainian economy sectors. Its development will encourage development of engineering, chemistry, energy, and food industry. Therefore, it is necessary to elaborate an economic development plan based on the agricultural sector progress", – said Dmitry Firtash.
According to President of FEU, the implementation of such a plan could play the same role for the economy of Ukraine as GOELRO plan which caused the industry move from steam to electricity 80 years ago.
Mr. Firtash said that Ukraine should get away from exports with low added value and focus on the production of agricultural goods of higher redistribution. President of the Federation of Employers of Ukraine stressed that Ukrainian and foreign companies who want to work in the agricultural sector of Ukraine should develop their own production and build refineries in our country. "For us jobs creation in Ukraine is very important. Therefore, there should be the development of agricultural products processing. Agribusiness progress will vitalize villages and fill village councils budgets", – said Dmitry Firtash.
According to Mr. Firtash, this approach is used in Russia and Turkey. Ten largest automotive companies gained an access to the markets of Russia and Turkey after the construction of assembly companies in these countries.