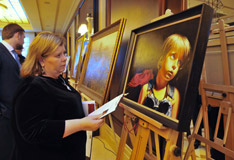 29 October 2011 Charity. Ukrainian Catholic University
UCU Organizes 4th Charity Auction As Part Of University Development Fund Raising
The charity auction was aimed at raising funds needed for the development of the Ukrainian Catholic University in Lviv.
The auction featuring 84 pieces of painting and sculpture culminated in bidding for the icon of Our Lady glass-pained by Oksana Romaniv-Triska.
The auction was followed by a charity lottery drawing books and artworks as prizes.
Opening the reception with his welcoming speech, Rev. Sviatoslav (Shevchuk), Head of Ukrainian Greek-Catholic Church, thanked the philanthropists contributing into the University's development. "I want to thank you from the bottom of my heart for being here tonight, by this move alone you are supporting the Ukrainian Catholic University. You are our friends and fellows for which we praise our Lord!" He also stressed that UCU is a unique educational establishment. "The Ukrainian Catholic University is a unique institution building and promoting the civil society in Ukraine."
The charity event raised the total of about $120 thousand and was attended by 250 businesspeople, celebrated public figures, diplomats, bankers, intellectuals and artists. Ex-President of Ukraine Victor Yushchenko and his wife Kateryna were among the guests.
Rev. Borys Gudziak, Rector of the UCU, thanked all the donors and philanthropists emphasizing the importance of their role in promoting quality education. "We should not deplore our losses: we are the God-gifted people with the pride bestowed by the Lord. Why are the wealthy ones sending their children to study abroad? Because they place no trust in the Ukrainian education. But it is no one but us, dear friends, who will make the difference in whether or not we in Ukraine will have the education that can be trusted," said the Rector.
NOTE
UCU is the only Catholic university in the post-Soviet domain while internationally, there are over 1350 Catholic colleges and universities operating in 67 countries. Catholic universities evolve quite vibrantly and offer curriculums that go beyond a narrow confessional component. The first universities in Europe such as the Sorbonne in Paris, Charles in Prague, Jagiellonian in Krakow.
Since 2010, the University has been building its campus expected to be commissioned in 2015. Annually, this project requires US$4-5 million worth of investment. The funding is provided only from private charity sources and the largest donor for the project is Mr. Dmitry Firtash, Head of the Board of Directors of Group DF.